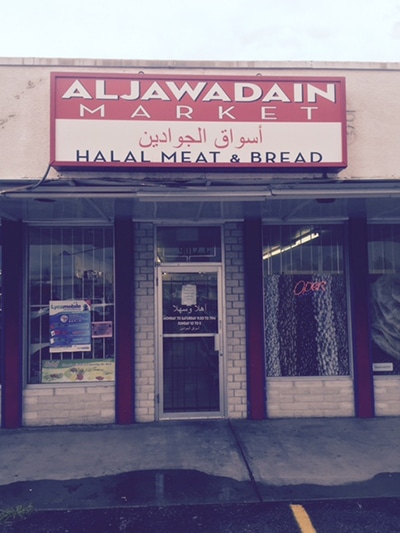 Mazin Kadhim (age 29) is a political refugee from Iraq.  While in Iraq he was studying to become an engineer. 
He came to the United States in 2010 and initially settled in Denver where he worked for 2 years at a Middle Eastern grocery store.  He moved to Albuquerque in 2012 and began working full-time at Lutheran Family Services helping other political refugees.  He also worked part-time at another middle-eastern grocery store called Diamond Bakery.
  
The owners of Diamond Bakery wanted to sell the store and move back to Iraq.  Mazin had always wanted to own his own grocery store and saw this as the perfect opportunity to make that move.  After contacting WESST,  he worked with program staff to apply for and receive a loan that facilitated the purchase of the store. 
The name "Aljawadain" is an Iraqi word with a meaning similar to "neighborhood".   Most of his customers are from Pakistan, Afghanistan and Iraq. 
He made substantial improvements to the store, upgrading equipment and giving it a deep cleaning.   Sales come primarily from traditionally prepared Halal meat and from Khobeez bread made on the premises in a special oven that Mazin built himself.
 
He had a slow start to the business.  He had trouble finding a reliable and inexpensive credit card processing company. He could not find a good manager to run the store during the day while he was working at Lutheran Family Services.  He also wanted to open a restaurant in part of the store, but couldn't find a good cook.  He finally found a good manager, a great card processing company and decided to close the restaurant and reduce the size of the store to make it more manageable. 
He said more and more customers are coming to the store now because he makes a big point of carrying products from their countries.  Sales have increased substantially since he opened, even though the space and inventory is smaller than it used to be. 
Although he is still working full time at his other job, he is happy to be paying back his loan.  He says "Without WESST, I could not have started my business".  His vision is to bring some of his family over from Iraq so they can help expand the store, bring back the restaurant, and provide a gathering place for the middle-eastern community as well as an opportunity for other communities to enjoy the food and cultural experience.
"Without WESST, I could not have started my business"
Mazin Kadhim
Aljawadain Market, Inc.