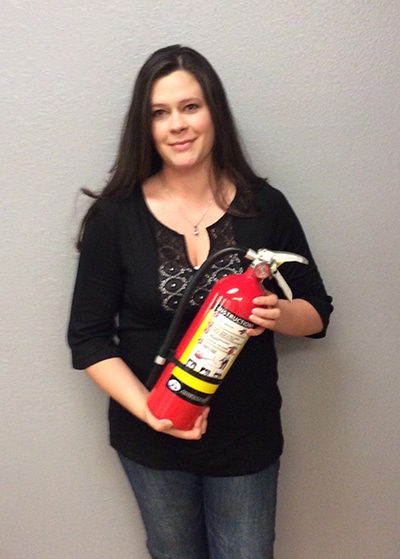 Alpha Fire Extinguisher, LLC
Morgan Hiles is a stay-at-home mom that had always dreamed of owning her own business. After finding that a traditional job wouldn't afford her the flexibility she needed to care for her family, it became clear that self-employment was the right choice for her. Morgan and her husband (a firefighter) recognized a need for more extinguisher refilling and services in their growing city. With a Bachelor's Degree in Community Health, she found that her knowledge and experience would easily apply to a business in the fire & workplace safety industry.
With little to no entrepreneurial experience, Morgan came to WESST to explore her potential venture with an expert and try to find a niche within the community. She quickly realized that she was facing two obstacles – Morgan would have to break into an industry that is not actively sought after and is not traditionally accustomed to female entrepreneurs. With a customer base that typically only seeks Morgan's services after an annual fire inspection, the additional challenge of acquiring new business was also clear.
Knowing that it would be an essential component of her future success, WESST first helped Morgan put together her business plan. In an effort to ensure that she would be both efficient and profitable, WESST also helped Morgan with an extensive analysis of her pricing model and service offering. As a result of Morgan's hard work and WESST's assistance, Alpha Fire Extinguisher, LLC was formed in December 2014.
Alpha Fire Extinguisher now offers fire extinguisher supplies, services and trainings to businesses throughout the Las Cruces area. Morgan takes great pride in the fact that Alpha Fire Extinguisher offers only the highest quality, American-made fire extinguishers to her customers. They provide local businesses with any type of extinguisher needed to ensure maximum fire safety and offer annual extinguisher inspection services as well. During any service call, all fire extinguishers are carefully inspected and all required maintenance is performed per manufacturer's recommendations. This service protocol ensures that all extinguishers will be fully functional in the event of a fire emergency.
Morgan's services provide other entrepreneurs with the sense of security they need to focus on their business instead of fire safety concerns. The safety information provided by Alpha Fire Extinguisher educates business owners on proper care and maintenance as well, so they can rest assured that they are prepared in the event of a fire emergency. The regulatory information and compliance services that Morgan provides also help business owners avoid the costly fines and negative feedback associated with failing a fire inspection.
"WESST helped me write my business plan and helped me find my focus. When I was stuck on a section, I knew they were just a phone call away. They gave me much-needed support at some very pivotal moments during the set-up of my business. I can honestly say that had it not been for WESST there is a chance that my business would have never made it off the ground. There were times that my confidence was lagging and I felt overwhelmed by the huge task of starting my own business in a field that was completely foreign to me. After every meeting with WESST, I left feeling positive and like someone believed in me, my concept, and my business. I am extremely grateful for all of their business expertise and their encouragement".
Alpha Fire Extinguisher, LLC
"WESST helped me write my business plan and helped me find my focus. When I was stuck on a section, I knew they were just a phone call away."
Morgan Hiles, Owner
Alpha Fire Extinguisher, LLC