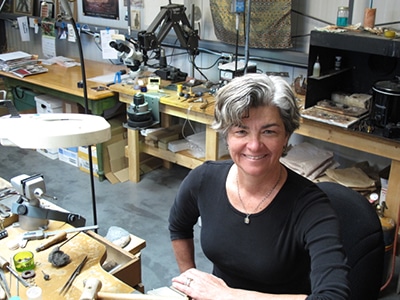 Welcome to the beautiful world of Gail Golden's handmade jewelry.
Gail lives in the charming town of Arroyo Seco, New Mexico, a small village below Taos Mountain and seven short miles from the town of Taos.  Gail and her husband just completed the construction of a new studio with incredible and inspirational mountain views that go on forever.  In her state-of-the-art studio, Gail designs and creates her one of a kind collection of fine jewelry ensembles that combine semi-precious and precious stones with a range of metals – from gold to silver to copper.
After receiving her BFA from the University of Montana, Gail worked as an illustrator and graphic designer before she heeded the call of the Taos Mountains to become a ski instructor; over time, she also manage multiple retail outlets "on the mountain".  An avid outdoorswoman, she eventually decided her body needed a break and returned to her long-time passion of creating beautiful adornments for individuals with discerning taste.
Gail won her first big jewelry design award in 2001.  Shortly thereafter, she began to take advantage of the business development programs at WESST.  Over time, Gail has participated in a number of WESST programs and is currently a member of a pilot program helping rural small business owners take the next steps into a broader sales and marketing arena.
Her one of a kind designs are crafted in her studio that she shares with husband, David Anderson, a master metalsmith and award-winning jeweler who also has made some of the tools she uses.  Together they designed and created their studio, which is a lovely and functional work and living space.
Featured in fine galleries, boutiques, Sundance Catalog, and treasured by collectors everywhere, Gail Golden Jewelry is a talent to be reckoned with.  Using some of the new business development tools she has acquired with WESST, Gail's business is expanding and scope of potential clients and product positioning is increasing exponentially.
"Learning the business side of creativity doesn't always come naturally to artists, but I'm finding that with WESST-Santa Fe, I really enjoy the process."
Gail Golden
Gail Golden Jewelry