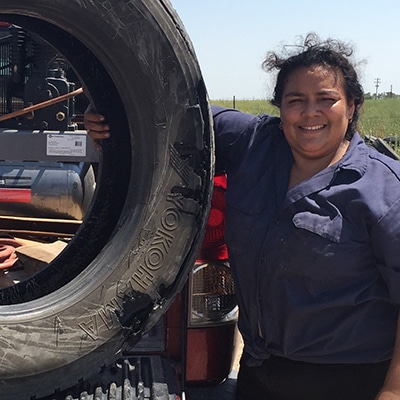 GT Tire Shop was founded in April 2013 in a small rural community with a population of 94. Amid the peaceful plains of McDonald, NM sits an old barn turned into a tire shop with big dreams of growth and renovation. The tire store serves many who live in the rural area as well as travelers between Ruidoso, NM and Texas. The Galvez family is dedicated and loyal to one another and their community as they strive to provide the best tire service to neighbors and passersby alike.
Initially, Rosa had a small start-up loan with WESST and quickly paid it off. After being in business for a period of time, it became evident they needed to add equipment and construct a better building and add a waiting room for customers. Rosa once again, approached WESST for a loan. With a comprehensive look at the accounting records, we identified the weakness in the handwritten system. It was clear they needed to get a better picture before they took on the significant loan amount that would be necessary to accomplish all they wanted to do.
As the business grew, their son, Macario, moved home to join his mother's business and has been instrumental in taking the rural tire shop to the next level to be competitive and meet the needs in the rural area. Macario implemented processes and protocols to help in the areas of technology, accounting, inventory, growth and expansion plans. Through WESST workshops in banking, accounting and taxes, legal entities and human resources, Macario assisted in the change of the business from a sole proprietorship to an LLC. Rosa and Macario still consult with WESST on a regular basis regarding all aspects of the business. Macario attended a two-day QuickBooks class at WESST and has updated their accounting from handwritten records to the QuickBooks system and has hired an accounting firm. Such improvements allowed the tire shop to have a better handle on inventory and assisted with the development of the loyalty program. They added a mobile unit that enabled them to respond to emergency calls from those people stranded on the highway.
"With the training at WESST and their continued support, I know we will successfully continue to grow and be able to expand our business for generations to come."
Rosa Galvez - Owner
GT Tire Service