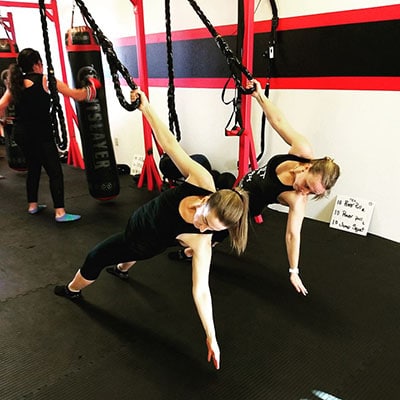 The Hit Fit Club turns the fun and excitement of kick boxing and mixed martial arts into a challenging workout that incorporates interval training and the functional movements of mixed martial arts. There is always a coach present to encourage, motivate, and challenge any fitness level. Workouts start approximately every 3 minutes, with the total circuit lasting roughly 30 minutes. They encourage their members to walk in, warm up, and workout – no wait!
"A business is not an 'if you open, they will come proposition.' We knew this, but we also knew we had a great idea. Potential clients may be thinking, it's just a gym, but imagine a small group where a dedicated coach motivates you, pushes you, and always supports you. Our facility provides a challenging workout in just 30 minutes, and we have found that until they try it first-hand, people often think that they should be in the gym for an hour or more." said owner Jennifer Patel.  "People can walk in, warm up, and work out while being observed and motivated by a coach. It's not a conventional fitness class and it's not an open gym where it's just you and the equipment. It's so much more! The methodology used has been widely studied, even at the University of New Mexico, but for many people trying something new can be hard."
The Hit Fit Club promotes a balanced, healthy lifestyle and has coaches from all walks of life. For example, when you have the obstacle of starting a workout program while balancing motherhood and work, they have got you covered. The obstacle of how to move beyond the elliptical or how to start?, they have personally been there. Their program is designed for convenience. They have a number of members who have never been to the gym before. It is great to see the brand new working out with the seasoned and cheering each other on.
WESST  Rio Rancho has been a huge help in working with us to improve our business. There are often times you feel that you have a great idea and things just don't work out. Sometimes this can be hard to take, but we have found that the faster you learn to pick yourself up and try something different, the more successful you will ultimately be.  Brad Crowson, WESST Rio Rancho Regional Manager, is working with Jennifer and her partner Premal on marketing and promotional ideas, identifying KPIs (key performance indicators) to help track and manage sales results and operational efficiencies, developing a strong value proposition, improving business processes, and human resources.
"We are blessed every day to make a difference in people's lives. Owning a small business is not easy, but it's definitely rewarding. The coaches, members, and our family have always been a great support system for us. We really make an effort to get to know our members and they have become friends."
Jennifer and Premal Patel
"WESST has been really helpful identifying aspects of our business that we can improve on, including refining some of our business processes and the execution of some new marketing ideas. WESST has been a valuable asset to us as we continually strive to make our business better."
Jennifer Patel
The Hit Fit Club