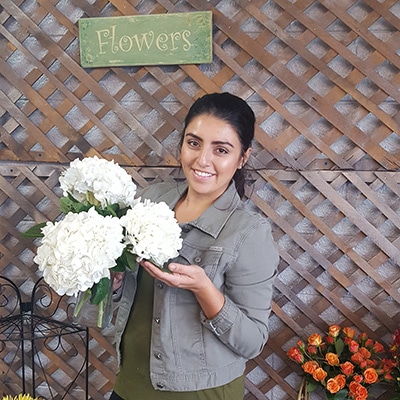 Suzie Fresquez has never shied away from hard work! Suzie originally was hired to do a job at a floral shop; however, as she worked to gain experience, she honed her skills and realized she had a real talent and a passion for floral design and the floral business.
Suzie worked for the business owners for four years. The owners recognized that Suzie was more than just an employee; she treated her position as a real calling. Therefore, when the owners began to feel it was time to sell the shop, they instantly realized they wanted to offer their business to Suzie. They felt her loyal dedication, passion and professionalism would allow her to be successful and at the same time, it would allow her to realize her dreams and fulfill her life goals of owning her own floral shop.
As you can imagine, moving from employee to owner, Suzie faced some inherent challenges. The shop had been open since 1981 and was known in the community as being owned by the other individual. As with any business, there were some positives about being in business for that long and there were some challenges with letting the customers and community know that the business was under new ownership and management.
Suzie began to explore ways to get the word out in the community that she was the new owner of Accent Flowers. She wanted to be known as a successful business owner of one of the best floral shops in the community. She found ways to volunteer in the community and donated products and time. The more she put herself out there, the more she was noticed, and the word spread that Accent Flowers had a new owner.
You might wonder what makes Accent Flowers different from any other floral shop in the community. Suzie set out to be the "go to gal" for anyone's floral needs. She was determined to always handle her business in such a way to be known as dependable and reliable. Can you imagine a bride worrying about whether or not her flowers will make it to the wedding? With Suzie and Accent Flowers, there is never a concern.
Suzie decided to provide a guarantee for any event. For instance, with funerals, she keeps track of the number of days the deceased will be held in waiting and visits the funeral home daily to replace the less than perky flowers in an arrangement up to and including replacing the entire arrangement.
When Suzie was asked how WESST helped her, she responded, "WESST is amazing! They are so dedicated in helping small businesses and help people fulfil their dreams." Suzie acknowledged that WESST helped her understand financial reports and how to measure successes and make good business decisions with regard to expansion. With the knowledge that she has gained through her consulting appointments at WESST, she is better equipped to reach her goals and the relationship has given her the encouragement needed to work smarter not harder.
When asked how Suzie felt about being an entrepreneur, a successful entrepreneur, she said that she was able to find the flexibility she was looking for to raise her family all the while being able to provide a good income for her family. Those personal benefits are the bonuses Suzie realizes while being able to provide a valuable service to her community.
"WESST is amazing! They are so dedicated in helping small businesses and help people fulfil their dreams."
Suzie Fresquez
Accent Flowers