Albuquerque Women's Business Center
Albuquerque Region Contact Info
Valeria Olave, Regional Manager
Kevin Moran, Business Consultant & Trainer
Mark Gilboard, Business Consultant & Trainer
Phone: 505-246-6900
Fax: 505-243-3035
WESST Enterprise Center
609 Broadway Blvd. NE, Albuquerque, NM 87102
GOOGLE MAP »
Available in person or by telephone M-F,
8:00 am-5:00 pm, or by appointment on evenings and weekends
REGION MAP »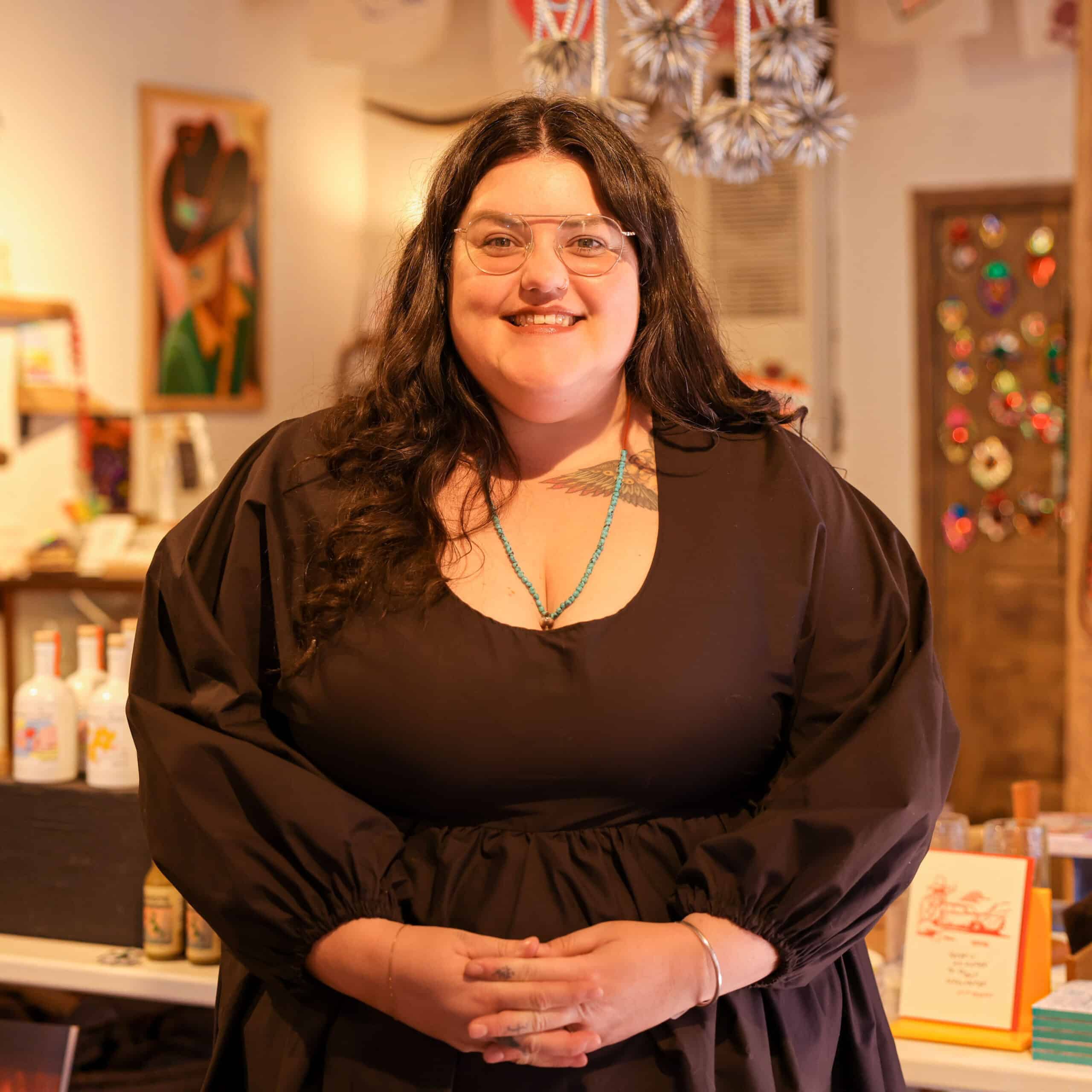 "Luna and Luz" (Tess's daughters' middle names) is a retail shop, located in the historic Albuquerque Old Town district. Her shop showcases nearly 200 local artisans, including many women-owned and Albuquerque-based businesses. Tess is in the business of invigorating the local economy and making our community rich by supporting vendors and artists who are true makers. She finds purpose through the creation of experiences and cultivation of relationships within the local artist community. Tess's vision is to take us back to basics- back to the earth, water, sticks and stones; back to the beauty that…
READ MORE
WESST is headquartered in downtown Albuquerque, New Mexico in the heart of the Innovation Corridor, near UNM Rainforest Center, Fatpipe Co-Working Space, and CNM Ingenuity's FUSE Makerspace, among other locales. The Albuquerque region provides consulting, training and lending to clients in Bernalillo, Valencia, Torrance and Socorro counties.
In addition, the WESST Enterprise Center, Albuquerque's best-practice, small business incubator, is headquartered out of our downtown facility. To learn more about the WESST incubator, visit the WESST Enterprise Center page. The Comcast Digital Media Studio at WESST is a state-of-art video production facility also located at our downtown location. Filmmakers, videographers, producers, distance learning providers and advertising agencies are welcome to request more information or a tour of the studio by filling out our digital media studio inquiry form.
Clients and Services
Our Albuquerque office serves anyone who has the passion and commitment to start or grow a business. We work with a variety of clients who are thinking of starting a business or who are already in business. We offer consulting, training, lending and incubation and can connect you to a variety of other services to support your business. There is no barrier to becoming a WESST client, simply call our main phone number and you will be connected to a business consultant that can help you assess what services will help you succeed. Or, you can fill out a request for business assistance and we will contact you within 24 hours to answer any questions or help you find the resources you need to start and grow your business.
WESST Albuquerque hosts a variety of classes and workshops that offer in-depth business training in focus areas that include: business planning, learning about business finances, social media strategy, web marketing and more. Our current offerings are listed on this page.
Established in 1989, WESST Albuquerque is one of six WESST offices housing a Women's Business Center (WBC) Program, funded in part by the U.S. Small Business Administration. The WBC program was founded to foster the growth of woman-owned businesses by providing access to education, training, mentoring, business development and financing opportunities to women throughout the United States and its territories. Visit our Women's Business Center Program page for more information about the resources available for women entrepreneurs.
Awards
Margarita Guarin, 2018 SBA Minority Small Business Champion of the Year.
Why WESST?
At WESST, we have developed a process for helping our clients truly understand what it takes to start, grow and build a thriving, sustainable business. We start with "strategy first, tools second" to help our clients implement financial, marketing and organizational systems that support the entrepreneur AND the business. Our talented employees undergo a rigorous hiring process in order to provide only the best business advisors and trainers. Our employees are 100% committed to providing the best opportunities for our clients to succeed.
WESST staff are all dedicated to our Mission, Vision and Values and will work with anyone who is committed to the process of exploring, developing and living entrepreneurship. We work with clients at every stage of business from pre-venture to mature, from 1 to 100 (or more) employees and can provide business consulting, training, lending, incubation and digital media production.
Thinking of Starting a Business?
Quiz: Should You Start A Business?
This quiz will help you evaluate whether starting a business fits well with your personality and skills.
Business Planning
Thinking through your business idea carefully and putting together a solid business plan is essential for every entrepreneur. This is true whether or not you need to raise money to start up your business—even if you don't need to approach a bank or other lender, putting your business plan into writing is a key step in the path to success. Here you'll find a sample business plan, a detailed outline, and several worksheets to walk you through this vital process.
Free Tools: Startup Risk Calculator; and a Startup Valuation Calculator
These free easy-to-use Crowdfunding Tools from EquityNet* are designed to help companies less than four years old analyze their businesses before they engage investors. Both tools are based on the company's patented Enterprise Analyzer™ technology. The Startup Risk Calculator helps entrepreneurs better understand their business risk and improve their odds of business success. The Startup Valuation Calculator helps entrepreneurs estimate, compare, and better understand their business valuation.
*EquityNet recently received a perfect 5-star rating by Crowdfunding Website Reviews. The independent review rated EquityNet as the number one crowdfunding support service website. The company has been recognized by Forbes, Entrepreneur Magazine, Bloomberg, Worth Magazine, CNET, and other journals as the inventor and pioneer of equity crowdfunding.
Business Plan Tools and Examples
Thinking through your business idea carefully and putting together a solid business plan can be an essential exercise for any entrepreneur. This is true whether or not you need to raise money to start up your business—even if you don't need to approach a financial institution or other lender, putting your business plan into writing is a key step on the path to success.
Despite what many people think, business plans do not need to be complicated or intimidating, and many of the exercises and activities undertaken as part of the planning process can be important steps to financial self-suffiency regardless of how close you are to starting a business. To help you, WESST offers a business plan template and a sample business plan, both downloadable from this page. Feel free to adapt the template to suit your own unique business needs.
DreamBuilder Online Learning
DreamBuilder is an intensive online business skills development curriculum that guides women entrepreneurs through interactive exercises and videos, including stories from real-world, successful women entrepreneurs. The program is not only relevant for women who are thinking of starting a small business, but also those who already own small or medium-sized businesses and simply need additional support to increase their success and income.
The DreamBuilder online business skills development curriculum will be taught in a "flipped classroom" model. During the first session, participants will receive their log-in credentials and an overview of the online platform. They will then be able to work at home, at their own pace. Participants will typically attend three (3) subsequent in-house sessions at WESST that will allow them to share their learning with other entrepreneurs, ask questions of the WESST trainer regarding specific topics and review information related to starting a business in New Mexico. Participants may also have the opportunity to work on the online curriculum using a laptop provided during these sessions. This enables any technical issues to be handled by the WESST trainer.
To find out more about DreamBuilder in your city, please contact your nearest WESST office, or visit the WESST Upcoming Training and Registration webpage.
Women's Business Center Program
Aquí puede encontrar Información sobre el Centro Empresarial para Mujeres en español.
One-on-One Consulting and Training Designed to Help Women Become Self Sufficient Through Self Employment
WESST is proud to be a part of the U.S. Small Business Administration's Women's Business Center Program by hosting a network of Women's Business Centers at each of our six New Mexico locations.
Through the management and technical assistance provided by Women's Business Centers programs, entrepreneurs — especially women who are economically or socially disadvantaged — are offered comprehensive training and one-on-one consulting on a vast array of topics to help them start and grow their own businesses.
At WESST, we understand the unique challenges and needs of women entrepreneurs. Our Women's Business Center programs are designed to be flexible and responsive to those special needs. We offer a variety of workshops designed to help aspiring and established women business owners succeed — many of which are scheduled during evening hours to accommodate busy daytime schedules. Our popular Brown Bag Lunch workshops, held conveniently during lunch time, are free. Topics can range from money management and Quickbooks training, to leveraging Social Media and writing an effective Business Plan.
Individual consulting appointments can be arranged to discuss a specific topic in depth, at a time that's convenient to the client. While our Women's Business Center Programs are geared to women they are open to anyone, at any stage of their business development.
For more information or to register for any of our Women's Business Center training or networking events, please visit our Training page. To request counseling, please complete the Business Assistance Inquiry, or contact one of our Women's Business Centers via our Contact page.
Our accomplishments reflect the character of our team.
From the top down, our experienced staff operates in a team-oriented, collaborative environment that helps foster small business solutions to share with our clients. We are prodigious learners, meticulous listeners, and natural problem solvers. Our collective experience is our foundation and it grows stronger with every new challenge we face and every new client we help.
Sign up to receive information about training, business loans, and business consulting.
Information about our upcoming training.