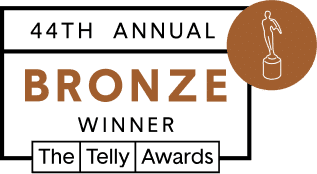 We are pleased to announce the Studio at WESST has been awarded a Bronze Telly award in the Local TV- Not-For Profit Category for WESST's The Place to Start and Grow Your Business Campaign. Established in 1979, The Telly Awards receives entries from 5 continents and all 50 states. As one of over 13,000 submissions in 2023, The Studio at WESST was selected to receive this honor and we couldn't be prouder of this accomplishment.
A Versatile, Full Service Film & TV Production Green Screen Studio in Albuquerque
The Studio at WESST is a full-service production studio with a three wall green screen cyclorama and an expansive lighting grid.  This versatile sound stage seamlessly converts to a private screening room with 42-seat retractable auditorium seating.
Professionally outfitted for multi-camera live streaming, The Studio at WESST can be used as a performance space as well as for remote training to reach your audience anywhere in the world.
The Studio at WESST is available to rent or to hire for full production support on your next Film & TV project.
Dimensions: 28' W x 18' D x 18' H
Studio Rental Rates:
$750/Half Day (Up to 5 hours)
$1250/Full Day (Up to 12 hours)
Studio Rentals Include All Grip, Camera & Lighting Equipment.
For a quote on Full Production Services or to schedule a tour of The Studio at WESST, click below!
WESST Jumpstart Video Ventures