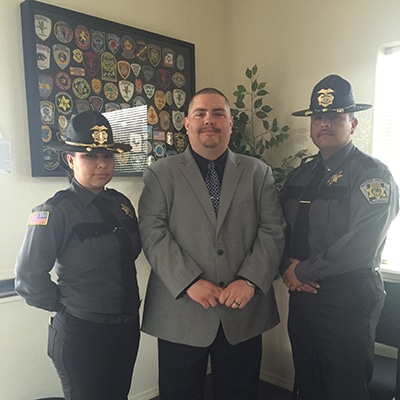 Allstate Security Services
Allstate Security Services LLC provides long and short-term security services. Whether uniformed or in plain clothes, armed or unarmed, Allstate Security Officers are prepared to handle any situation to include, but not limited to – EMS Safety Instructor-led training programs, vehicle patrol and alarm response service, Bodyguards/executive V.I.P protection, special event guards, loss prevention agents, high crime property enforcement, civilian pepper spray training and vacation patrol.  Allstate Security Services is now approved by the Bureau of Private Investigators to train Level 1, 2, (basic) and Level 3 courses for Security Officer Registration with the Bureau of Private Investigators and now offers New Mexico Concealed Carry Classes, by an approved New Mexico department of Public Safety Instructor.
Camilo first came to WESST for help creating an efficient bookkeeping system. Once his office manager was hired, he sent her to WESST for QuickBooks training. She completed that training and began creating a system to better manage the day to day operations and provide the ability to work towards the long term growth strategy.
Camilo realized that with a new contract with an oil company, he would need to add additional employees, equipment, uniforms, radios, etc. He again contacted WESST for a loan. By working closely with the local regional manager and the VP of the loan department, he was able to see that the cash flow projection validated his need for the funds and provided the ability to determine exactly how much was needed in order to handle the contract. Together with WESST, he identified the amount needed to expand the business and maintain the company's financial stability.
Allstate Security Services
"WESST is more than a business consultant, they are family!"
Camilo Romero IV
Allstate Security Services