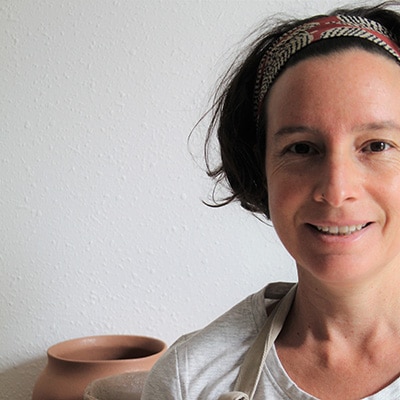 Lucrecia creates ceramic tableware and decor collections. Every piece is hand-crafted and thoughtfully designed, including collections of plates, bowls, cups, pitchers, and teapots. She also creates gifts & home decor like large and small flower vases, vessels, pots, and jugs to accent any room in the house. Made by hand in Santa Fe, New Mexico, each piece is worked with care and designed to give sensations of joy and well-being. Whether hand-built or wheel-thrown, each design is one-of-a-kind, stoneware, selectively glazed, lightweight, and food-safe. Her artistic creations are owned worldwide and considered highly collectible.
In the past few years since WESST and Lucrecia joined forces to help her improve her sales, marketing and client research, her work has evolved and her sales have increased dramatically. She has established the internet as her primary marketing and sales venue. During the 2021 holiday season her total sales exceeded her sales from the entire 2020 calendar year. She is an innovator with her processes and glazes and her on-line shows sell out in minutes. Lucrecia has gained confidence in herself and selling her work to an unseen audience. Her marketing method is unique – beautifully photographing her work and alerting her collectors the exact time of her product release 24 hours in advance. She now often sells out in the first hour of release.
"An artist at heart, with not much knowledge of business at the time, but a willingness to make my art become my life even more than it already was, I reached out to WESST as soon as I found out about it. This city is generous and loves word-of-mouth. I made an appointment and drove to the building. I remember leaving the offices inspired and empowered with new clarity right after the first visit. At WESST, I found information, guidance, and community that were then, and are still today, crucial to building and growing my business. I received information about everything from marketing to taxes, pricing to communications, accounting to packaging, to name a few, in an easy and enthusiastic environment. The guidance was empathic and specific to my own needs. The community has resulted in a network of peers and friendships.
What's more, whether I walked in for a one-on-one consult or a group workshop, sent an email, or made a phone call, I was always greeted by a smile and kindness. After much learning and experimenting, today I can confidently say I own a successful hand-made ceramic business which gives me much joy." – Lucrecia Troncoso
"I believe the support I received at WESST was holistic and I can assuredly say it has helped me grow not only my business, but also myself as a person. Thank you!"
Lucrecia Troncoso
Santa Fe, NM