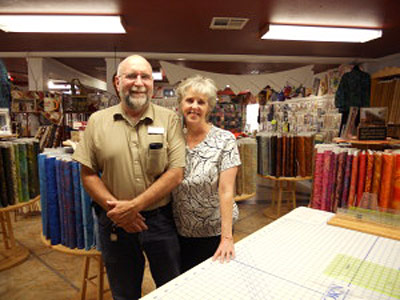 Bernina Sewing and Design
Surrounded by colorful fabrics and thread, Marsha Cowan, laughed when asked how her business was doing in today's economy. "We're making it," she said. The fact is that the business has grown considerably during their eight years of operation. She and her husband, Izzy, work fulltime in their delightful Bernina Sewing and Design Center and they are able to employ 11 other people.
Marsha admits that she is more interested in the sewing and design aspect of the business while her husband is "the numbers" person – keeping their business always on track financially.
Proudly, she points around the room as she says, "Everything you see here, we own," rooms and rooms of inventory – ranging from sewing machines to cutting tables, bolts and bolts of fabric, a training room filled with tables and chairs, and endless displays of notions. The assets spoke volumes and all the people milling about, shopping for everything from quilting needs to embroidery, were an immediate testimony to the Cowan's success.
Looking back at the small shop from where they first started to the four- to five-room expansion, it was obvious that they were doing things right and enjoying every minute of it. Marsha first came to WESST in 2006, asking for assistance with her business. She attended several classes, including the MarketLink program. During those years, her passion was hosting sewing retreats for women from all over the country. She started a small newsletter to keep her customers abreast of classes and specials that she offered in her shop.
Needless to say, her newsletter has grown tremendously to include classes ranging from mastery (learning every aspect of the machines that customers purchase) to beginning sewing (all types of projects, including embroidery, quilting, and simple sewing) to advanced classes. As a Bernina dealer, she naturally sells sewing machines, but also uses them in her classes – giving women a chance to try different types of machines from simple to highly computerized, to embroidery, quilting, and surging.
Marsha's love seems to be working through the creative process. When a group of her trainers told her they were tired of teaching the "same things," she panicked. What would she do if they all stopped training completely? Immediately, Marsha and Izzy decided that part of the job requirement would be training – which meant, of course, that every employee had to be crossed trained. That required hours of training on machines, how to train, and selling. Marsha tells of a young employee who knew nothing about sewing but was wonderful with customers. After she went through the required cross training, she demonstrated a machine to a customer one day and made a sale.
Marsha said the cross training was the smartest thing she had ever done for her business. The employees didn't mind training; they just got tired of training the same subject over and over. Now, she has all of her staff crossed trained so all aspects of her business are being handled by everyone and when someone is out, there is always a backup.
As for the future, Marsha would love to double the size of her shop, allowing for additional shopping and project space. When asked if a building the size of K-Mart would work, she just laughed and said she was sure she could fill it up fast. On a serious note, Marsha says she would like to offer sewing retreats again, and now that her staff is fully trained, that plan seems very feasible in the near future.
Bernina Sewing and Design