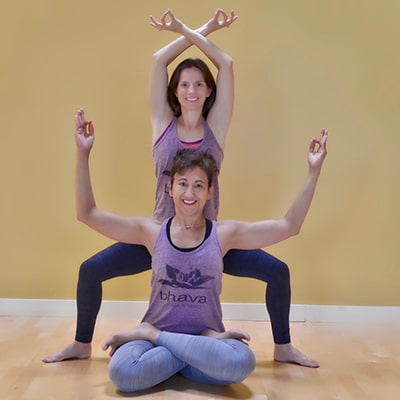 Bhava Yoga Studio brings healthy balance to busy lives with a wide variety of yoga classes, trainings, and events at their location on Central Avenue in Albuquerque. The studio has been a fixture in the area for over 13 years. It recently changed ownership, and Mimi Ludden and Marisol Brito, the new owners, came to WESST for support to ensure that their new venture would be a success.
Bhava Yoga offers classes for every skill level from beginning students through advanced yogis. They have specialty classes such as Back Care Yoga, Yoga Fundamentals, and a Family Yoga series. Bhava's teacher trainings are highly regarded as well. The course is offered every Fall with a faculty and staff that are amongst the best in the business.
Mimi Ludden started this journey because she loved yoga, specifically at Bhava. It was always her dream to own a yoga studio and infuse it with her professional experience in mental health and overall wellness. This venture is the culmination of her two life passions coming together into a single career path that bridges the gap.
Marisol Brito used yoga, and specifically teaching yoga, as her own retreat from her life as a mechanical engineer. After teaching at Bhava for 10 years, she was presented with the opportunity for a stake in the business, and she jumped at the opportunity. After Marisol bought the business from the original owner, she sought out Mimi to co-own the business.
One of Mimi and Marisol's initial challenges was having 10+ year old systems in place that they felt were outdated. It was important and difficult for them to forge a path of their own making inside an existing, highly regarded, beloved business and its established community. Another challenge was a financial one. The business was originally created to provide profit to a single owner. With two owners, Mimi and Marisol looked to of create a business that would be profitable for two owners in the long term.
Mimi and Marisol utilized two of WESST's current programs to support their growth. They worked closely with WESST staff through one-on-one consulting to write a new mission statement, overhaul their brand messaging, and create a strategic marketing plan. Additionally, they opened up their financials to WESST, and sought improvements in accounting and bookkeeping through consulting on Quickbooks and financial practices.
They also took advantage of WESST's Power Up Your Biz program. This unique program provides low-cost consulting, technical design and accounting services to clients. By working with WESST, Bhava Yoga Studio created all new graphics for their business.
As a result of their work with WESST, Bhava Yoga is setting themselves up for sustainable success for the coming years. They plan to serve our downtown Albuquerque community in the future by adjusting to changes in the market. "When we are better able to be as financially sound as possible, honing our business acumen, we know we will be part of the fabric of the Albuquerque women-owned small business community. Keeping the Yoga Studio focused on its mission of helping the public be more balanced in their modern, busy lives, we bring joy and calm to our fellow humankind."
Even though entrepreneurship entails endless energy and hours, Mimi and Marisol are passionate about running their business. Personal purpose and enjoyment drives each of them forward. Knowing that ultimately they are impacting our amazing community one hour at a time, helps sustain them. They know they are making someone's life a little bit better as they forge ahead with enthusiasm and business focus.
Mimi Ludden and Marisol Brito
"WESST has allowed us to move forward with necessary projects that will enhance our business that we did not have the capacity to complete before and take our business to a new level. We are grateful for the expertise, knowledge, and support of WESST."
Mimi Ludden
Bhava Yoga Studio