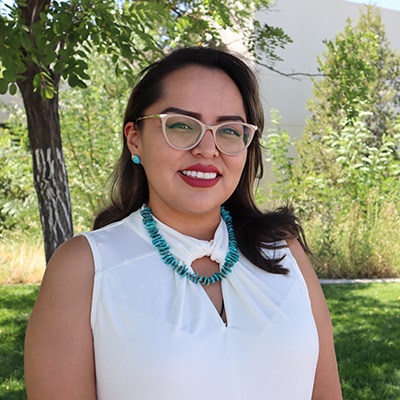 Owner Alyssa Begay started Bluehorse Realty NM in the midst of the COVID-19 pandemic in April 2021. Bluehorse Realty NM provides exceptional service to clients seeking to buy or sell their real estate in San Juan County, New Mexico. Alyssa started and named her business as a dedication to her grandparents and their Native community of Mitten Rock, New Mexico, hoping to support Alyssa's goal of creating generational wealth for her family.
Alyssa operates her business online as a home-based business using social media platforms like Facebook and YouTube to provide insightful and knowledgeable real estate resources on moving, selling, and region-specific information on living in San Juan County. Alyssa understood the impact of small business support within the Farmington community, so she is continually involved in community events and a supportive pillar for any new individual moving to the area.
Bluehorse Realty NM is filling the gap in the real estate business within San Juan County by being one of the few native-owned and operated realty businesses knowledgeable on HUD Section 184 options for Native homebuyers. With the growing Native population in Farmington, NM (currently 1/3 of the population), Alyssa brings exceptional service to first-time homebuyers and sellers through her reliable first-hand experience of growing up and actively participating in the San Juan County community. She is a community leader, an informational hub, and the best first step towards buying or selling a home.
"I had never considered being a business owner until I formed my LLC. I started my business in April of 2021 and decided Real Estate would become my vehicle to generational wealth. Like others who've been bitten by the entrepreneur bug, ideas of other business ideas are already forming. This way of thinking and believing in myself did not come until very recently. I became an entrepreneur after years of jumping from employer to employer trying to find a place that shared my values with a mission." Said Alyssa.
Like many new businesses, Alyssa did not know where to start. She was overwhelmed by the processes of beginning the licensing and registration process. She turned to WESST Farmington Women's Business Center and was happily surprised with personal hands-on help for each step of realizing her business vision. During this start-up process, she identified an additional barrier to starting her business: access to capital.
Alyssa was always willing to try new processes. She took each suggestion and tested it for her business. She wanted her business to succeed and was extremely driven by her goals. A wonderful quality of Alyssa was her personable nature and confidence in networking. This combination of elements transferred into productive sessions with WESST.
Alyssa noted that her success came from a combination of things. "I started being very upfront with what I didn't know and actively sought resources. I also started networking with prospects, other professionals, and even Realtors. I wanted to build my business with the best bits I saw, and this was something I could learn by following the best in the business. I stopped looking at other Real Estate Professionals as competitors and embraced the idea of community even within the Realtor population."
WESST consultant Holly Patterson helped Alyssa build her application for a start-up business and credit builder loan with WESST. Since receiving the loan in 2021, Alyssa has improved her credit by over 80 points. Next, Holly and Alyssa identified gaps in Bluehorse Realty NM's marketing approach and worked extensively on her business plan and marketing strategies. Together they streamlined business processes, marketing strategies, and goals for her first two years of operation.
Bluehorse Realty NM has been operating phenomenally. Alyssa sold 8 homes within her first operating year, just 3 shy of her goal of 11. She has slightly expanded her business to hire a subcontracted position to aid in the process of closing paperwork. Alyssa is consistently reaching goals and establishing new ones, always wanting to improve her customer service and knowledge. She has emerged as an active member of multiple community initiatives, constantly marketing her business.
"WESST has been great, the opportunities to learn and speak to the clients of WESST was inspiring to me and helped me to feel secure in my journey of entrepreneurship. Having a consultant there during my business planning phase was incredibly helpful, I was much clearer in my goals and vision after revising my business plan. The ultimate piece of knowledge WESST taught me was that my business will always change, its ultimately up to me to keep my goal in sight."
Alyssa Begay
Farmington, NM