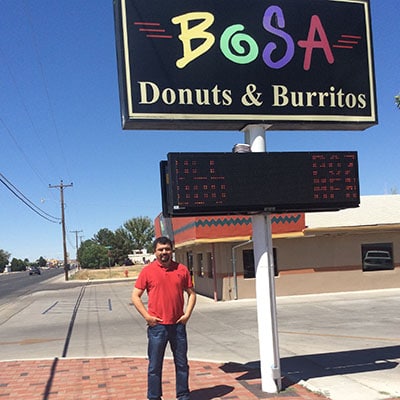 William Cardoza is the owner of a small restaurant and bakery located in Las Cruces.  Initially only donuts were sold, but eventually, William expanded his menu to include burritos, menudo, tamales, and other Mexican food.
The startup process was a bit different for William since he was an employee of the business for a short period of time before taking ownership.  William started as an entry level hourly worker with the company and through his hard work and determination, he found himself in a situation where he was able to take over the company a few years after his initial hire.
William's work with WESST began by completing a loan request for building modifications, technology updates, and parking lot improvements.  William also qualified for the Prime Grant Technology Assistance program offered by WESST and Kosh Solutions. The Prime Grant provided technology consulting and a customized "solution report" at no expense to the small business owner.
Upon receipt of the loan William began to make the modifications desired to his parking lot.  The integration of his new POS system provided a faster, more efficient way of doing business on both sides of the register.  Also, when conducting record keeping and inventory checks, the new system assisted him with complex entrepreneurial tasks as well. He also changed to an electronic digital sign that scrolled through specials and hours of operation.
William hopes to continue serving the Las Cruces/Mesilla community for another 20 years.
"WESST has the best interest for my business at heart. They truly assist a loan applicant in more ways than just loaning them money."
William Cardoza
Bosa Donuts