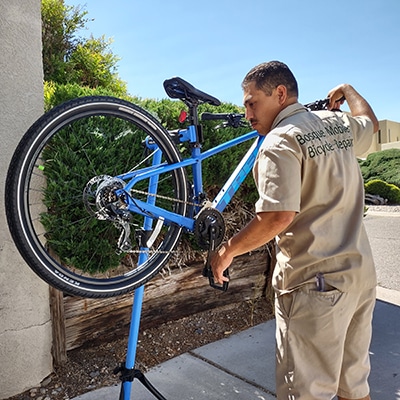 Bosque Mobile Bicycle Repair
Bosque Mobile Bicycle Repair is a convenient remote repair service in the Albuquerque area that helps you keep your bikes properly maintained and tuned, so you spend more time on roads and trails and less time in the shop. It doesn't matter if you are at home, work, or anywhere in between, Bosque Mobile Bicycle Repair will bring the bike repair to you.
Frankie, the owner of Bosque Mobile Bicycle Repair, specializes in repairs; however, he loves to create educational videos on his website and social media pages to spread awareness on bicycle maintenance and make product recommendations. If a repair on your bike weighs you down, reach out to Frankie to get you back to pedaling.
Business consultant Holly Patterson and owner Frankie Soto worked together to improve his marketing strategies. They reviewed his website, implemented targeted reach with Google Ads, and applied feedback from past customers to new client services.
Bosque Mobile Bicycle Repair
"WESST has given me the knowledge to help me grow my startup business! The WESST Farmington and Roswell offices are great. Thank you, Dawn and Holly, for your one-on-one help. My business is almost two years old."
Frankie Soto
Albuquerque, NM