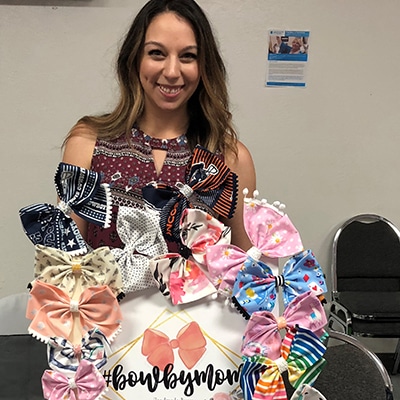 Sara LaMontine comes from a family of entrepreneurs. Sara watched her dad start a restaurant over 20 years ago and role model the examples of hard work and determination.
In December of 2016, Sara began making bows for her daughter. Soon, people began commenting on how much they liked her bows and asked her to make bows for them. When she realized there was such a market, she began to formulate her business idea. On January 1, 2018 Sara started #bowbymom, which creates one of a kind bows and headbands for girls. Each bow is made with love and includes a wide assortment to choose from. If you don't see something in her shop she is happy to create a custom order.
Sara created a Facebook page and used word of mouth advertising. Things moved quickly for her and before she knew it, she was very busy and needed help determining how to "run a business." That is where WESST came in! WESST helped her identify the best legal structure, and how to manage her accounting system to keep track of her sales and inventory. She also wanted to find ways to increase her sales. WESST worked through different marketing techniques and social media campaigns, as well as a lead system she wanted to implement.
Running a home-based business while raising children is not easy. She wanted both her children and husband to be happy! Sara had to develop a system to allow her to spend time with her children, organize and attend their activities and keep her home running smoothly all while keeping up with her customer orders.
In the end, it is a blessing to follow in her dad's footsteps of entrepreneurship and be able to quit working outside the home. Sara enjoys offering one-of-a-kind designs, using her creativity, earning a living, and raising her children. She is living the American dream!
"WESST not only helped me with the nuts and bolts of getting my business started, they are the biggest cheerleaders ever! Their encouragement seems to come at just the right time to give me a little boost in confidence."
Sara LaMontine
#bowbymom, Roswell NM