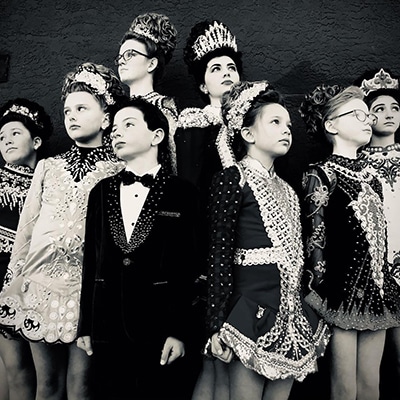 Brightburn Academy of Irish Dance
The Brightburn Academy of Irish Dance is a dance school specializing in Irish Dance for all ages.  They offer a Pre-Beginner class serving 4-5 year olds, solo classes for dancers 6 and up, as well as classes specializing in Adult Fitness.  Pre-COVID, they also held many Ceili classes, which is a form of Irish social group dancing found traditionally throughout Ireland.  The school is affiliated with the CLRG, the governing body of Irish Dance located in Ireland, which allows the dancers to compete throughout the state, regionally, nationally, and even internationally.  However, competing is not a requirement, many dancers just enjoy dancing for the fun of it!
The school was originally founded twelve years ago as the Tir Conaill Academy of Irish Dance in New Mexico.  Approximately five years ago, the school operated under the umbrella of Celtic Steps, a Denver-based school known for being one of the largest schools in the region.  After three years with Celtic Steps, the local New Mexico branch was purchased by Kate Padilla, who had been a student for the previous 10 years.  Kate, who started dancing as an adult, was proud to keep the business local and has been working diligently to serve New Mexico as the only CLRG-affiliated Irish Dance school based in New Mexico.  To signify this change, the school was rebranded as The Brightburn Academy of Irish Dance in 2019.
There have been three significant challenges they have faced in starting this business:
The process of becoming a separate entity from Celtic Steps and building something new and New Mexico-based with Brightburn Academy has been a significant challenge. Re-establishing brand recognition within the community has also been difficult, but local businesses, organizations, and families have been extremely supportive and receptive.
With the business originally based in Arizona, the New Mexico studio had been grossly neglected over time. Reestablishing and breathing life into the local studio has taken a lot of time, effort, compromise, and team-building, but they have more than doubled the number of dancers in just the past two years.
Statewide restrictions related to COVID have provided significant challenges for the business. From the loss of their ability to perform live, to now growing to the point where they are struggling to socially distance in the current facility, the obstacles have been significant.
Working to overcome the obstacles above:
The school was able to separate from Celtic Steps through a lot of political maneuvering and through thoughtfully and respectfully advocating for their local dancers. It became clear to all parties that it was no longer financially or emotionally possible to continue having the New Mexico dancers served by an Arizona and Colorado-based business.  It was fortunate that this occurred pre-COVID, because the business would most likely have closed had it still been relying on out-of-state travel throughout COVID.
They have stepped up marketing, offered additional classes and camps, and given families discounts when they have multiple dancers dancing in multiple classes per week.  Prior to COVID, they had significantly ramped up the number of local performances, as well, to get their re-branded name out in the community.
Much of the past year has been taught via Zoom, which has also been a real struggle, but they are so thankful for the technology that has made it possible to keep going and growing during this time. They are also currently looking into creative solutions to solve their miraculous "problem" of having grown in a COVID environment to the point of needing a larger space.  Finally, they are seeing that many people are starting to become interested again in some form of physical fitness that can be done with a minimal amount of equipment to enhance both their physical and mental health.  They are certainly happy to help in this regard!
In addition, WESST has provided integral business assistance at key times—from the very beginning as they established themselves as a New Mexico business, to growing the business through their website, marketing, and social media, to helping them secure grants, and making plans for future growth. Training opportunities such as the Google My Business workshop have proven to be significant in the success of the business, as they average multiple hits per day on their website. They have also been awarded two different grants to assist with additional COVID-related expenses that have helped them stay on their feet through these lean times. Without WESST's assistance in obtaining these grant funds, their ability to survive these difficult times would have been severely compromised. "We are extremely grateful for all the time and effort that Brad Crowson from WESST has put into making our business a success in the community!"
Rio Rancho really values their small businesses, and Brightburn Academy is so happy to be a part of this community!  They work hard at providing not just a "dance school" but a "dance family", where every dancer feels valued and able to become the best version of themselves.  They also encourage the dancers and dance families to take care of their physical and mental health in a multitude of ways—such as stretching, cross training, setting goals, pushing yourself beyond your physical limits, as well as forming friendships, coming together as a community, and encouraging one another.
One of the most important ways that their business dreams are currently coming true can be seen in the hall as dancers of all ages leave class…laughing, connecting with friends, feeling both confident and empowered through what they were able to accomplish physically, and enjoying a truly life-enriching sport.  They love seeing the dancers step outside of their comfort zone to pursue their dance dreams—whether that is being able to dance for a solid hour or dancing on the World Irish Dance Championship stage in Ireland among the best of the best.
Brightburn Academy of Irish Dance
"Brad Crowson at WESST has been such an amazingly supportive fan throughout the course of our business. He has brought opportunities to our doorstep that have proven to be instrumental not only for the sustainability of our business, but also its miraculous and rapid growth. We are so very thankful to have been connected to WESST and its many resources and look forward to maintaining this relationship in the future as we continue to expand."
Kate Padilla
Rio Rancho, NM