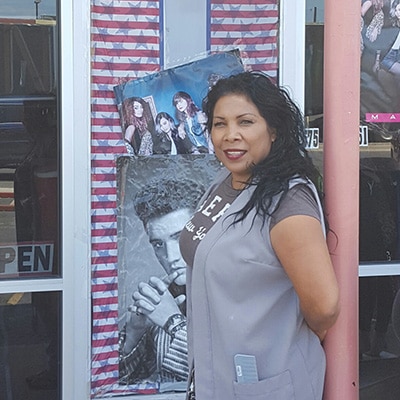 Araceli Bueno (Chely) immigrated to the US with her family when she was 12 years old and always had a dream of owning a beauty salon.
Despite early challenges in finding housing and having to help her mother care for her younger siblings, Chely was able to realize her dream of being an entrepreneur when, in 2003, she launched her business in Roswell, New Mexico.
Chely faced another key challenge when suddenly her family situation changed and she lost her lease on the building. Not to be deterred, Chely immediately looked for another location and was able to find a spot that enabled her to continue her business, though much of what she was doing required her to start from square one. That location was much smaller but in a much better location and enabled her to increase her salon clientele by at least 30%.
Chely has built strong relationships in her community and provides affordable haircuts to many clients. She also has been known to donate many haircuts to those in need and even continues to visit her first American home of Hatch, NM offering hair styling services in the immigrant communities. 
Chely has recently relocated her business and is working with WESST to refine her business model, implement a sound marketing strategy, and create a space plan that will maximize profits. The shop now offers clients the privacy of a salon treatment and a separate attractive area for selecting apparel.
"It is so nice to have someone that is truly concerned with my business needs. WESST has given me motivation and direction!"
Araceli Bueno
Roswell, NM