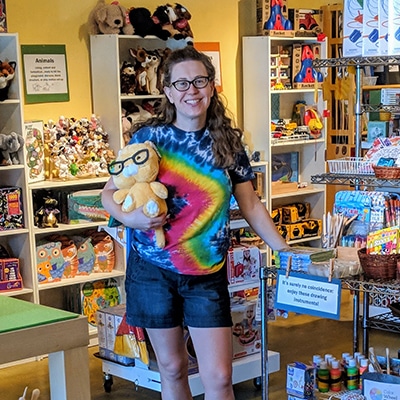 Color Wheel Toys is a pop-up toy store that opens seasonally for the holidays. They sell creative toys, craft supplies, bulk Lego bricks and other fun items designed to encourage imagination, learning and exploration.
Owner Keri Piehl first started Color Wheel Toys in 2017, primarily as a way to encourage parents and children to explore fun, colorful and unusual toys as an alternative to licensed toys and electronics. Keri also wanted a way to offer families art supplies and other creative bulk goods in an affordable, fun way that encourages kids to use their imagination.
Being a seasonal toy store, location, marketing and inventory tracking were Keri's biggest challenges. Not many property owners were willing to agree to a short-term lease for a seasonal business, making a highly-visible location difficult to acquire. Similarly, learning how to effectively market a business that isn't open year-round presented an additional challenge for Keri. Lastly, creating a simple way to track sales and inventory across multiple products and lines would drastically improve the data she would be able to gather on what items are most popular & profitable in her store.
Keri developed a color-coded inventory system with 11 different product categories, which allows her to see better data on her most popular & profitable products. She was also able to negotiate a short-term lease for a prime retail location in Nob Hill for the 2018 season, giving her access to valuable drive-by traffic on Central as well as events like Shop and Stroll.
Through one-on-one consulting with WESST, Keri was able to explore the best type of location for her business, and learn more about how to negotiate a short-term lease. She also learned more about her primary base of "drive-by" customers, and discovered that spending more on location & signage would earn her more business than advertising in other ways. She also learned about different, simple options for tracking sales and inventory that would provide her with valuable data on her best performing product categories.
Because of Keri's success, parents in Albuquerque have a great seasonal option for purchasing toys and craft supplies that support imagination and discovery in ways that licensed toys don't. Nob Hill also has the benefit of having a unique & interesting limited-term business in the neighborhood, which brings new customers to the area and gives them an opportunity to visit other nearby businesses.
Keri is well on her way to having her best season ever with Color Wheel Toys, and is looking forward to using her new data & marketing efforts to reach profitability for 2018.
"After a thorough analysis, WESST provided clear and actionable advice I was able to apply immediately to my business. The advice was tailored to my values and goals for Color Wheel Toys and helped me make well-informed decisions."
Keri Piehl
Color Wheel Toys