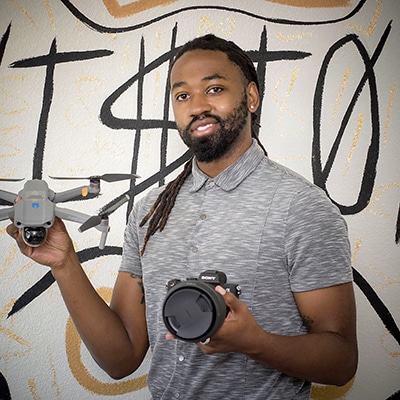 Creative Duke Media is a Digital Content and Design Service. Jordan helps clients create new digital products to tell their stories and create real customer connections for their products and services. Whether it's drone photography, 3D design services, brand identity, logos, packaging design, or web strategy and content management, Jordan helps organizations tell their unique stories and give their brands PRESTIGE.
Jordan first approached WESST in July 2019 when he had an idea to start a business. WESST guided Jordan through paperwork, taxes, and operations. Once his business came to life, through ongoing coaching with WESST, Jordan identified a need for capital. We connected him with WESST's loan department to explore the possibility of a HOPE Loan.
The HOPE Loan helped Jordan overcome credit, income, and collateral issues that would have likely resulted in denial from traditional lenders. He said he already has clients asking to book services that the new drone will enable him to offer. Jordan is excited to continue consulting with WESST and participate in our training opportunities as his business flourishes.
"If it wasn't for WESST I probably wouldn't be where I am with my business."
Jordan Tate
Albuquerque, NM