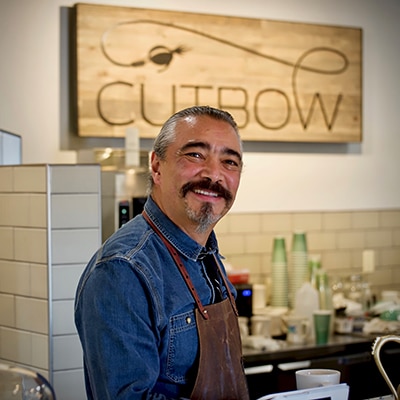 Cutbow Coffee is a coffee roastery, tasting room and coffee bar serving their own hand-selected coffee blends sourced from around the world. Their unique store is located in Albuquerque's picturesque and historic North Valley.
Paul's passion for coffee came from his many years working as an expert roaster for Peet's coffee in California. In 2016 Paul brought this passion back to his home state of New Mexico to pursue the dream of opening his own coffee roastery. Paul's many fond memories of fly fishing with his father on scenic New Mexico rivers inspired the name Cutbow Coffee.
The first thing he decided to do upon his return to Albuquerque was assess the local coffee scene and begin to think about a way to set his planned operation apart from the rest of the growing city's offerings. Paul also secured his desired equipment and specific plans, as his 28 years of roasting experience would inform his careful decisions.
Paul had extensive experience with coffee roasting and industry trends through the years, however he was not as skilled at the art of running a retail/café type of business, so he had to learn quickly all of their internal processes and best practices.
He met with a marketing professional for some preliminary planning around executing his vision for the unique style and look of Cutbow Coffee Roastology. Self-financing was a primary challenge as the risk was obviously increased and the stakes couldn't have been higher for him and his young family. Additionally, choosing the right location in a crowded competitive coffee market was paramount in his decision making.  Paul also started his business very lean, using his family and a key new hire or two to set the high standards of the café. He was wise enough to only make the best decision regarding that first hire – choosing only a seasoned, career-minded barista to help further the goals and "elevated" brand he envisioned for his small business.
Even though the branding and marketing path was laid out by the initial boutique agency that created his logo and tagline, Cutbow Coffee sought more clear ideas and foundations around how to market and how to more comprehensively think about sales and marketing activities for their soon to be launched business.
Paul came to WESST on the recommendation of a friend of the family and WESST Board Member. At WESST, Paul worked with WESST staff to develop a brand strategy and marketing plan for Cutbow Coffee Roastology.
The WESST team, with its wide range of experience with Albuquerque small businesses and the competitive marketplace, provided vital support as Paul formulated and launched his business. After the Cutbow Coffee launch, WESST staff has continued to check in with Paul in order to help him sustain his success and to discuss the challenges and joys of starting from a new business from scratch.
Paul lives the dream of entrepreneurship by putting in more hours than he has ever worked in his life, and yet, feeling as though he doesn't even work. Working for his own entrepreneurial dream is something in which Paul didn't quite know what to expect, with risks and questions that were hard to answer but seemed to work out with time, thought, and a little bit of outside help from partners like WESST.
With Cutbow Coffee the public gets masterfully roasted, and an impeccably served cup of great coffee! Also, by returning to their hometown, the Cutbow Coffee Family is showing New Mexicans that great business ideas can come to fruition right here at home. Even though Paul went away to California to pursue his dream of becoming a coffee maven, he knew that he could return here to Albuquerque to make something great for his hometown. Cutbow Coffee is drawing upon the promise of a son coming home to the land where he was born and raised.
"WESST helped us to really take ownership of the experience and expertise that we brought to coffee here in Albuquerque, and that it could be a wise marketing and branding opportunity to highlight my experience as a coffee roaster. WESST helped us be less shy about the great things we were setting out to do."
Paul Gallegos
Cutbow Coffee