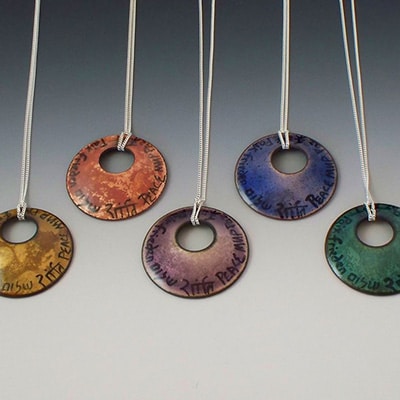 Dancing Turtle Studios, LLC
Dancing Turtle Studios LLC, owned by artist Cande Toner, started out as Hiwassee Mountain Crafters in Delano, Tennessee.  Cande took numerous workshops in enameling and jewelry making at the Arrowmont School of Arts and Crafts and John C. Campbell Folk Art School to develop her style. She specializes in enamel on copper tiles which are turned into framed mosaic artwork as well as a popular line of inspiring enameled Mosaic jewelry. Enameling is the ancient process of fusing glass onto metal. The brilliant colors and inspirational messages from clients and Cande define the artwork with personal intentions and affirmations.
In 1997 the property in Tennessee was sold, Cande moved back to Michigan and the business name changed to Dancing Turtle Studios. While in Michigan the business expanded into wholesale and teaching workshops.  Initially, Cande's Michigan-based business did very well.  When the economic climate began to change, art fairs and wholesale orders started slowing as discretionary income among client galleries and individuals became limited. Cande and her husband closed up shop in Michigan and relocated to New Mexico.
 
In 2010 Cande came to WESST and requested marketing and business development assistance. Over time she has participated in numerous workshops, one-on-one consultations and was a recipient of a WESST small business loan. Her scope and network broadened, she met individuals with whom she collaborated and her business began to grow.
Through hard work, incredible tenacity, open-mindedness and ongoing collaboration with a wide range of community entities and individuals, Cande's efforts paid off.  Her WESST loan allowed her to participate in some seasonal craft shows – locally and elsewhere. Over time she has assumed a leadership role in Santa Fe's outdoor arts community.  Along with a strong board of directors, Cande has made the Santa Fe Artists – a local non-profit organization – into a financially and organizationally successful business entity. Her personal/business financial struggles and desire to learn new skillsets with WESST has provided her with strong core business strengths that provide a baseline for her and her wholesale and retail product sales.
 
Community is very important to Cande. She is the Vice President/Treasurer of the outdoor Santa Fe Artists Market.  Upwards of one hundred regional artisans sell their work at the market on a weekly basis and benefit from the breadth and depth of her ongoing and evolving business skills development.  Entrepreneurship is in Cande's blood.  It's never been an easy path but has enough rewards to make the effort worthwhile.
 
Cande has been a WESST client for over six years.  She has taken advantage of numerous WESST workshops including Social Media, NM Gross Receipts, Marketing, Pricing, Business Skills Development series and more. She has had more than 25 hours of one-on one consultations as she's developed her business plan, explored opportunities in her wholesale marketing arena and customer targeting.  The WESST small business loan provided her with the seed money needed to attend several wholesale and retail shows to expand her client reach.
Dancing Turtle Studios, LLC
"WESST-Santa Fe has been a wonderful resource to help my business stand on solid ground."
Cande Toner
Dancing Turtle Studios, LLC