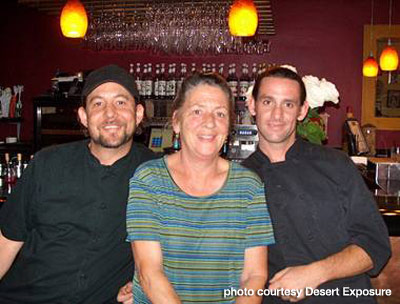 For Diane Holloway, reaching a low point gave her the momentum to leap from pastry chef to successful entrepreneur.
She moved quickly from no job prospects to using a $5,000 SBA microloan from WESST to grow a trio of eateries. Now, Holloway's sought-after destinations sit within a single city block in Silver City, New Mexico: Diane's Bakery & Deli, Diane's Restaurant, and The Parlor.
Even with her impressive list of accomplishments, Holloway is not quick to accept titles, including chef. "Yes, I have full certification, but to call yourself a chef, you really have to know everything."
Let's see what Holloway can check off that list. Working at the finest hotels and training with master pâtissiers? Check. Serving over 2100 baked Alaskas at once? Check. Shaping her business to meet the economic climate and customer requests? Double check.
Originally from the San Francisco Bay area, Holloway enrolled in a culinary trade school where she was encouraged to enter competitions. Doing so–and winning–allowed her a master apprenticeship in San Diego and pastry-chef positions with the Ritz-Carlton in Hawaii and El Dorado Hotel & Spa in Santa Fe.
Holloway's career was thriving in Santa Fe, but her son was not. So, putting family first, she moved close to his grandparents in Silver City. The problem? No immediate opportunity for her professional skills.
Holloway credits Jennifer Craig, WESST's Las Cruces Regional Manager, for encouraging her to begin her own business–and providing the resources she needed to make it thrive.
She opened Diane's Bakery in 1996 with the microloan, "the table out of my dining room, a mish-mosh of chairs and an eclectic collection of cups from the second-hand store." Soon enough the residents and tourists traveling through quaint, artsy Silver City asked for more.
"People wanted meat with their bread. And they were really craving fresh foods, salads." When customers requested soup, she transformed the canned tomatoes, cream and onions on hand into the first of many house-made specialties. She also realized the importance of keeping such early creations on the menu. "I really found that customers come back. Even if they haven't been here in a year, they want that same turkey sandwich."
The first bakery expanded from eight tables into the space next door within two years. After another two years, armed with a beer and wine license and a partnership with her culinary-trained son, Holloway transformed the space into Diane's Restaurant. Diane's Bakery & Deli, an expanded version of the first shop, opened across the street in 2007 and reflects Holloway's original love.
Transforming a portion of Diane's Restaurant into The Parlor last October was a savvy tactic for Holloway–even though it involved construction during the downturn. "The way the industry has been, it's been tough. Many of us have had to rethink our scene."
The parlor offers a less formal experience and quality food at a variety of price points. A separate entrance opens to the hip family-friendly space, where patrons can nosh on appetizers, panini and pizza or order any specialty from the adjoining Diane's Restaurant such as Southwest Ribeye or Seafood Thai Coconut Curry. Enhancing the low-key atmosphere is an extensive list of fine wine and beer plus performances by local musicians.
The support of Holloway's sons has been key to the success of all three businesses. "It's a family operation. I think that feeling carries over into everything we do. It certainly seems to attract great employees." Many staff members have been with her since she opened in 1996, and soup chef Oliver Hales and baker Anthony Gonzales were named best employees in the state by the New Mexico Restaurant Association.
Holloway often thinks of a scene from the classic movie Mildred Pierce. "I remember watching Joan Crawford as a single mother, trying to get away from this husband, and she walks across the screen with an absolutely gorgeous cake…"
Get a taste of Holloway's own popular four-layer chocolate cake with chocolate buttercream icing, toasted almonds on the edges and chocolate ganache cascading down the sides, and it's clear that she has found her own sweet icon of success.
Article originally published as "Silver Lining" in Smartsolutions, Shamrock Foods Publication; July/August 2010; pp 42 and 43. Excerpts reprinted with permission. Photo courtesy Desert Exposure.