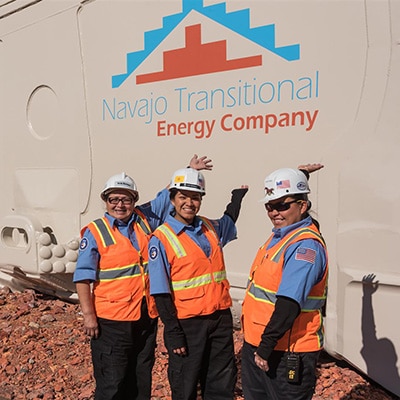 Dinéland Protection Services
Dinéland Protection Services provides 24x7x365 security service to the Navajo Mine (a large surface coal mine operated by the Bisti Fuels unit of North American Coal on behalf of the Navajo Nation‐owned, Navajo Transitional Energy Corporation). The mine is one of the largest employers on the Navajo Nation.
Verda faced many challenges in starting her business. As is the case with many first‐time business owners, Verda was "long" on operational experience and "short" on experience in managing a business. She also had the challenges of poor personal credit and very limited equity capital to finance her start‐up and early stage operating expenses.
First, Verda secured the services of Shirley Armstrong, CPA who has been serving as Verda's family accountant for several years. Shirley helped Verda form and register her company with the State of New Mexico, obtain a Federal EIN number, set up her chart of accounts and provide her with other business services including developing a preliminary cash flow model.
Second, to solve the capital challenge, Verda applied for a loan and/or a line of credit with several local commercial banks. Unfortunately, due to personal credit challenges, banks were unable to advance her funds. However, through a pre‐existing working referral relationship with WESST‐Farmington, the Bank of the Southwest suggested to Verda that she meet with Chris Hunter, regional manager.
With her start‐up capital secured, customer contract signed, pickup trucks purchased and other aspects of the start‐up completed, Verda now meets with WESST once a month for a financial performance review. The review and personalized one‐on‐one business consulting are intended to increase Verda's business acumen even as she and her team of 15 security professionals are providing outstanding service to Bisti Fuels.
Verda is thriving as the owner of her new business! In her role, she's now able to lead her supervisor team, have full authority over hiring and firing decisions, be personally responsible for customer service and earn more money.
Dinéland Protection Services
"I wouldn't be in business if it wasn't for the good work of WESST. WESST staff believed in me and my vision for Dinéland."
Verda Blackgoat
Dinéland Protection Services