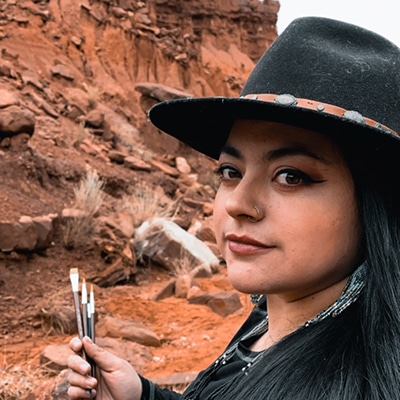 Duran's Window Painting LLC and Flor y Canto Fine Art
Duran's Window Painting LLC provides unique window art and murals for all Holidays, seasons, and occasions. Marissa currently works with both residential and commercial clients in Rio Rancho, Albuquerque, and other surrounding areas, including Southern Colorado. She produces high-quality and unique designs that bring color and joy to the community year-round. Flor y Canto Fine Art is the other side of her business where she creates original artwork that celebrates her culture with an earth-based pigment she makes herself. Marissa also sells amazing prints, stickers, and clothing through her online store.
WESST has been there to assist Marissa with her business plan and goal setting from the very beginning. WESST also helped her grow her business through social media and Google My Business, which has been a real game changer. She no longer needs to go door to door with flyers of her work and has since gained clients like Chick-fil-A, Amazon, New Mexico United, as well as many other local businesses. She has been able to reach more people and share more art in the community because of the resources WESST has shared with her.
Duran's Window Painting LLC and Flor y Canto Fine Art
"Brad Crowson has been so helpful in the process of getting my business going and growing to where I am now. I've had a fully booked Christmas season because people are finding me on Google. I'm even working in a new residential market and am now creating beautiful art for people that I never thought I could reach. I am so thankful for having connected with WESST! They are such a wonderful resource in our community, and I look forward to working with them as my business continues to thrive."
Marissa Duran
Rio Rancho, NM