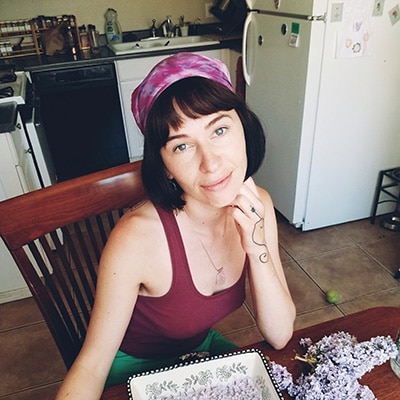 There is just something to be said for child's play and exploration in fields of flowers. As a young girl, little Kate discovered her love for aromatherapy by blending petals together to smell their remnant on her fingertips. Upon reflection, Ms. Viers shares, "I created Feral Lore Perfumes with a desire to share my passion for natural aromatics with the world." Given her extensive education in aromatherapy and herbal medicine, she was able to formulate the blends we experience today, with a unique blend of magic, inspiration and aromatherapy in a bottle. A world traveler, she's always looked to the stars for inspiration. Some of her signature fragrances are named after the planets themselves. Opening these signature bottles is likened to traveling through a time portal into another dimension. Feral Lore Perfumes gives the experience of sailing the Celtic Sea at sunrise or taking a spaceship tour across the galaxy, Jupiter, Venus, Mars, or the entire milky way. The Fragrances are derived from nature with respect to traditional harvesting practices and care for the land and the people.
While some single parents may see having a child as an obstacle, Kate Viers did not make this one of hers. "I'm a mother first, my daughter truly is the best person I know."  Reflecting on the hardest obstacles, this CEO gets very honest. "My biggest challenge was admitting I needed help." As a new business owner, it can feel like a lonely journey. "I had to figure out how to launch my business during the heart of a global pandemic." She had to learn everything about positioning herself in an online marketplace when people typically want to smell perfumes. They want to hold bottles. Storefronts were forced to close, and festivals were canceled. The additional obstacle she faced was learning about bookkeeping, accounting, tax records and so much more. "It just felt overwhelming."
Ms. Viers is no stranger to obstacles or challenges; this is a place where she thrives. One of her top-selling fragrances is even called "The Hunt," which embodies channeling the courage needed to overcome fears. Her belief that "everything is in the details" allowed her to focus on packaging that was visually attractive to display on her website. No one can resist a gift you get to unwrap because it's beautiful. Additionally, each perfume features its own collectors' card, which tells the captivating mythical legends of each signature fragrance. Feral Lore Perfumes offers a custom blend trial kit inclusive of each fragrance in the collection. Now that markets are back in full swing, not only is the packaging spectacular, but the scents, of course, seal the deal. The learning curve that Ms. Viers tackled was no easy feat. She learned through attendance of online trainings, consulting, and self-study.
Marketing 101 – the Art of Storytelling, was one of the trainings that helped Kate understand the importance of a solid digital platform to share her mission. She also says that consulting with someone who can help you in business is pivotal to your success. "WESST helped me to understand the aspects of running a business that I thought was scary and turn them into a superpower. Neema helped me to identify my weak points and give me the confidence to make changes that led to success."
Kate is an inspiration for any woman who looks to pursue their dreams. Kate shares her love of wild places and appreciation for all things beautiful and sensuous to enrich every aspect of Feral Lore and to hopefully inspire those who use her perfumes.  "My success as a woman entrepreneur helps to pave the way for others who have big passions, to make them into a reality that also sustains their life. Being able to bring beauty into the world with my art is an example of how others can do the same. We are all in this together."
This once small girl, who now is raising a daughter of her own, spearheads creating greater opportunities for women of every color and every nation to be empowered and to honor their wild hearts desires. "I am living my dream of entrepreneurship by stepping into my passions, by sharing my vision and dreams with the world, by supporting myself and my family with my art!"
"WESST has been an incredible asset to the continued growth of my business. There were so many pieces of being a small business owner that I didn't see or understand, and WESST has really helped me to feel confident in areas of business management that I wasn't before. My business consultant, Neema Pickett is a wealth of knowledge and inspiration, and her guidance has been instrumental for me in keeping myself on track, focused and always growing. Her assistance has taken my business to the next level."
Kate Viers
Albuquerque, NM