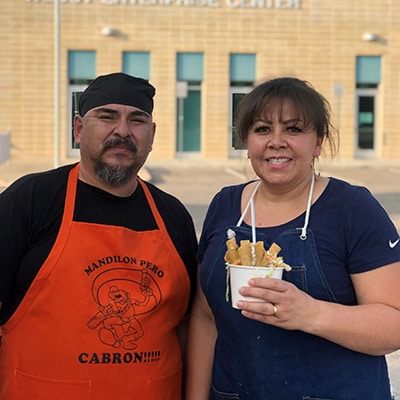 Flauteria Los Borrachos,LLC
Flauteria Los Borrachos, LLC is a food truck business born during the pandemic, located in the South Valley area of Albuquerque, NM. Their specialty is flautas ciudad Juárez style and other Mexican dishes.
Carmen has always been interested in being her own boss. Prior to the pandemic, she operated Hamiel Bridals, an event center and dress shop for special events, including weddings and Quinceañeras. Because of the pandemic, she was forced to shut down her business as no events were events allowed and parties were not on the horizon. At the pandemic's start, she decided to sew masks and give them away for free to the community. She asked herself, "What can I do with what I have and how can I contribute?" Having the opportunity to help others gave her a sense of purpose. However, as the pandemic continued, she realized she had to do something different to provide for her family. "I just can't stand idle here twiddling my thumbs; I have to do something," she said. She decided to pivot and go back to her very first passion: food.
Working with her consultant, Carmen did a thorough analysis of her business, performed a break-even analysis, a cash flow projection, and understood her new business's financial side before opening her new food truck venture. Having done similar research for her first business, she understood the importance of knowing her numbers. Carmen received a 10K loan from WESST while at the same time obtaining assistance on applying for grants for her current events business, which was a welcome relief, as she has been able to keep both businesses afloat.
Flauteria Los Borrachos,LLC
"I am so grateful to have WESST in my life. Being an entrepreneur can feel lonely and knowing I can call WESST and get assistance is comforting. I am physically tired now, more than before, but I feel better mentally. I love waking up and knowing I have my business, that people are loving my food, working with my husband, and having people who can help me, that I am not alone in this journey."
Carmen Bolivar
Albuquerque, NM