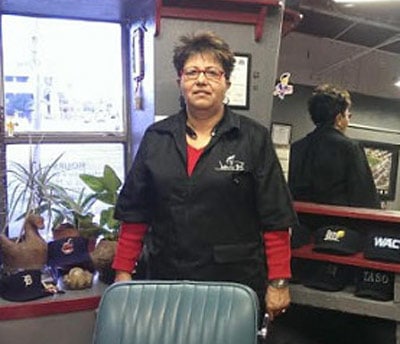 Emelita "Lita" Lujan opened Ladies and Gents Day Spa in January 2012 as a sole proprietorship (with the intentions of incorporating within a year). Her unique full-service day spa was divided into two separate sides – one, a high-end barber shop, dedicated to men who wanted to experience her world-class grooming services where they can relax with a cigar while having a manicure or hot-lather shave; and the other, dedicated to women. Both had their individual entrances and both carried only high-quality products for hair, facials, and body. Each side provided its special atmosphere where clients could relax while indulging in one-on-one pampering.
The business is located downtown among the hustle and bustle of city activities and surrounded by other businesses – including the US Postal Service, the Federal Building, the City offices, Downtown Revitalization, law offices, tourism, and retail shops.
Lita's background is interesting to say the least. She started out as a barber when she was young – not sure what she really wanted to do with her life – but loving the idea of being a barber. Her original mentor introduced her to travel and participating in large style shows around the country. She worked in teams and grew her skills as a barber. Those experiences made her a huge asset in the industry. After several years of being a barber, she put herself through college and received a degree in manufacture engineering. Later she went to work for the automotive industry where she retired after 23 years.
Being an ambitious and energetic person, Lita felt she couldn't just retire and do nothing. She had to work! That's when she decided to return to her true passion of barbering. For the next few years, she worked in another shop. With her 13 years of barbering experience, an understanding of how to provide excellent customer service, and an ability to network, Lita was prepared to open her own business. Those talents assured that she maintained her past customers while creating new ones.
She came to WESST prior to opening her new spa, hoping to get assistance with her business-planning and financial projections. Lita had heard how WESST could advise her in ways to better ensure success – through all the phases of her growth. We first sent her out to do her research and then helped her assess location feasibility.
During the months prior to opening Gents Day Spa, Lita attended several of our business, marketing, and technical classes (and continues to take classes at WESST today). Since financing was an issue and due to the fact that she had overcome some financial obstacles in her past, we were able to advise her on credit issues and identify ways she could access capital for her projected phases of growth.
During her first year of operation, the business went through several changes which forced her  to phase out the women's side of the business, change her logo and name to Gents Day Spa, and incorporate. WESST is helping Lita to create a presence which will attract professional men in the downtown area into her shop. Through her networking activities (something she considers her niche because she is a member of the chambers and active in the community), she has been able to increase clientele from all over the city. In doing so, she managed to set herself apart from her competition.
Lita's whole idea for changing perceptions about serving men has proven successful and Gents Day Spa has seen a 10 percent growth within its first year (over what she had achieved when contracting as a barber) and she is planning for a 12 to 15 percent increase this year.
Future plans consist of upgrading the inside and outside of the building; installing a new and larger sign; increasing the shaving product lines; participating in upcoming bridal expos; and continuing her education (via hair shows and WESST classes).
Lita is a person with high energy and a zest for climbing to the top. She has overcome health issues which put her into a huge financial bind for several years. However, she overcame that by consistently working on her credit and paying off all of her creditors.
Lita's attitude is "whatever doesn't kill you, will make you strong."