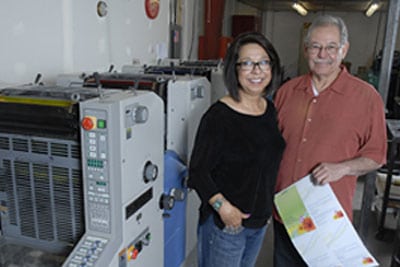 Jeanette and Martin Candelaria are growing a profitable and successful business in an industry where many companies are struggling. Their combination of extremely high quality printing and mailing services along with a positive attitude and flexible customer service keep the customers and jobs flowing.
Eleven years ago the Candelarias purchased an existing business that specialized in personalized greeting cards. They quickly discovered that the market for this niche was too small to meet their business goal. They chose to expand their business by adding bulk mailing services and started a growth path that continues today.
"The bulk mailing services started to bring in more printing business," said Jeanette Candelaria. "This is the opposite of how most businesses similar to ours get going. The norm is to be a printer and then add mailing services."
The approach while a bit unconventional has been working. Greetings, Etc. has added equipment to keep up with demand several times over the past 11 years. The most recent purchase is by far the largest in the company's history. On January 26th of this year, the Candelarias purchased a four-color press that has dramatically increased the businesses capacity.
The purchase of the new printing press was financed by one of the largest loans ever done by micro lender, WESST. The loan is the second round of financing that the Candelaria's have received from WESST. One of the factors that allowed Greetings, Etc. to qualify for financing their demonstrated ability of develop the processes and systems at every step of their growth to take their business to the next level.
As a result of this growth, Greetings, Etc. has grown to seven employees with plans to add more. They have doubled their business in the past few years and plan to double again. "We definitely have benefitted from our relationship with WESST," said Jeanette Candelaria. "Without the financing we have received, we would still be a much smaller company."
While Greetings, Etc. does direct mail marketing to promote their business, the majority of their new customers come from referrals and from people who see the company's name on high quality printed materials. Their customers value the consulting that Greetings, Etc. provides to make sure the printing and mailing projects have the most impact possible at the lowest possible price.
By knowing both the details of the postal service rules and the direct market place, they regularly can suggest small changes that can save costs and increase effectiveness. "Sometimes just moving a label a few millimeters on a printed piece can save a client hundreds or thousands of dollars of mail cost," said Jeanette. "This is the part of the business that both Martin and I love."
Jeanette and Martin manage to successfully deal with the challenges of being both spouses and business partners. While they acknowledge the occasionally challenges, the factor that makes their business relationship so much easier is their vision for successfully serving their customers.
Jeanette and Martin Candelaria
"We definitely have benefitted from our relationship with WESST."
Jeanette Candelaria, owner
Greetings, Etc. Inc.