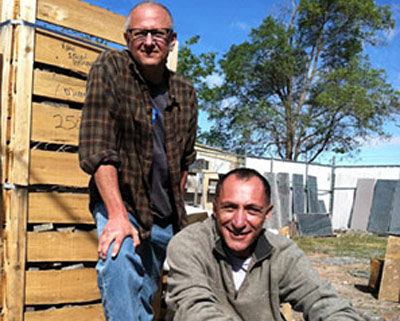 When Matt Kreitman and Robbie Lipworth opened Ground Floor LLC in July of 2007, they had no reason to anticipate the storm that would soon engulf the national property market. Fortunately, their business strategy – by necessity as much as intention – was based on extreme conservatism. With limited funding in the early stages of the business, the entrepreneurs were flexible and strategic with their business decisions.
Initially, only pocket change was invested in their fledgling business and work took place at a metal picnic table in an old cider bottling plant. With their minimal overhead, Groundfloor focused on perfecting an innovative new model for successfully importing and selling stone building materials. Four years later, the property market remains in turmoil, but a growing customer base of architects, designers, contractors, and developers are generating steady orders for the Santa Fe-based entrepreneurs.
Much of their success can be attributed to the copious pre-startup research they conducted prior to opening their doors. The partners recognized that high freight costs priced stone out of most commercial, civic and residential projects. Wholesale stone importers and retailers in the U.S. typically import a conservative amount of stone with little variety, cut it into limited sizes, and charge a premium. Choices are restricted to a few low-risk proven sellers that can be handled in volume, such as granite counter tops, marble tile and slate flooring.
Kreitman and Lipworth recognized an opportunity in the huge range and volume of new stone being quarried in countries like China, Brazil, India, Mexico, and Egypt, and were determined to introduce new options in sandstones, basalts, quartzites, porphyries, and other unique stone materials to the U.S. that no one else was importing.
"We wanted product that would liven up the tired stone choices currently offered by stone yards and retailers," say Kreitman. "But we also wanted to show that stone is a high quality, flexible building material and that we have found how to make it cost competitive."
Advances in the global consolidation of the container shipping industry facilitated Ground Floor's efforts to find new stone materials and import them from across the world at an affordable price. Keeping orders to a container-load minimum is integral to Ground Floor's competitive pricing strategy.
"Picking up a container of stone at a quarry anywhere in the world, and then having it delivered direct and on schedule to jobsites and projects anywhere in the U.S. or beyond is relatively simple," says Kreitman. "We can drop-ship custom orders in 6-12 weeks. Eliminating middle-men, wholesalers, and all unnecessary handling or road transport, enables us to bring prices down dramatically to meet budgets on a wide range of projects."
"We don't pay for inventory to sit here in Santa Fe," adds Lipworth. "Instead, we keep a huge range of samples or simply courier in samples of anything we don't have." The pairs innovative approach to importing allows them to be selective in their choices. "We only offer product from the very best vendors in India, China, Egypt, Mexico, Brazil, and Italy to ensure quality," says Lipworth.
In April 2009, Kreitman and Lipworth approached WESST for a loan to complete the purchase of five pre-sold containers of Chinese basalt, which had to be paid for prior to shipping. "WESST was essential in enabling Ground Floor to meet the cash requirements of a fast growing small business," says Kreitman.
Ground Floor later worked with WESST to open a line of credit, which they can tap into when they wish to expand their business further. The nature of their business ensures it will never lend itself to a steady daily cash flow, so a line of credit is essential. The men remain very sensitive to debt and only use it for strategic business moves.
Always challenged as a small business to locate new clients, Groundfloor markets itself through low cost websites, online presentations and email, while recently launching into national advertising. Currently, 80% of their business is outside of New Mexico with projects in the last year including a university residence in Tucson, AZ, a hospital healing garden in Cleveland OH, and a luxury residential project in Weston, MA.
Combining solid business practices, caution and innovation, and access to capital from WESST, Ground Floor has successfully negotiated the recession while simultaneously laying the foundations for ongoing future growth.
Matt Kreitman and Robbie Lipworth