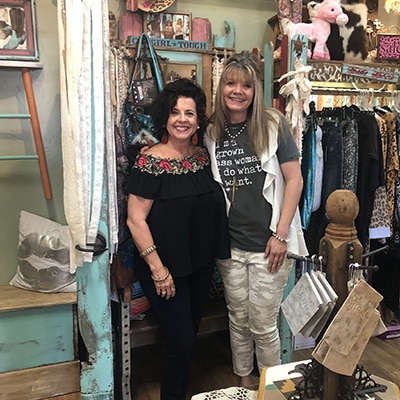 Gypsie Soule is the destination for fashionable, fun, unique, boutique women's clothing in Ruidoso, New Mexico. They take special care in selecting quality clothing and accessories perfect for everyday life, going out or that special occasion.
Maryellen Self has worked since she was 15. She always believed that one must do what they can, and she has never been too proud to do what needed to be done. At a very young age, she started working in the oil industry and worked her way up the ladder over a 12-year period. However, knowing how volatile the oil industry was, she began to reflect on what the future may hold and transitioned into real estate.
It was there that her coworkers noticed she had a unique style; she would wear a nice suit, but would pair it with a t-shirt and accessories – in other words, she had a fun side that she wanted to express in her daily life. Eventually, with the encouragement of friends and coworkers, she decided to open a clothing store because she was told, "she was made for it." Before opening her boutique, she traveled to the Dallas market to research what others were buying and determine what she should carry in her boutique. Her first location was in Artesia where she enjoyed a healthy clientele. However, her sister, who lived in Ruidoso, kept asking her to move because a shop like hers, with unique items, would fulfill a niche in the resort/vacation town of Ruidoso. She discounted the idea for quite a while, but after a visit for one 4th of July, Maryellen decided to move to Ruidoso. She thought she found the perfect location and opened her shop. The area turned out not to be the right fit for her and she thought about closing and moving back to Artesia.
That is when she and her sister stumbled across a listing for a space for rent. Maryellen called the property owner and after fulfilling all the necessary requirements, she received a call a few weeks later saying he felt she would be a perfect fit for his property. She utilizes every bit of space to offer a wide variety of unique clothing and accessories! You can find everything you need to make your entire outfit perfect for your special occasion!
One of the things that sets Maryellen apart from others is her need to learn and improve herself. Most entrepreneurs are not born financial wizards, but Maryellen was exposed to the business financial side in all her years working in the oil and real estate industry, where she built on each experience to provide a firm foundation.
Amid the pandemic, Maryellen was forced to close her doors. She took odd jobs to be able to cover expenses and began posting items for sale from the boutique on Facebook. She was hanging on! That is when Rhonda with WESST reached out to her. Maryellen was not familiar with WESST, but when she realized they were helping small businesses with either applying for federal programs or even with loans, she was interested. Rhonda recognized Maryellen's character, tenacity and passion, and when paired with Rhonda's passion to help others, they made a great team.
WESST is currently offering a small business loan at a 3% interest rate (up to $10,000) with no loan fees until September 15, 2020. Maryellen and Rhonda worked together to submit the necessary loan documents, and she was approved for the loan a few weeks later. The approval encouraged her to keep doing what she was doing, and she was able to remain in business.
"Working with WESST has proven to be a very positive experience. They cared about me, believed in me, and helped me when I needed it most!"
Maryellen Self
Gypsie Soule