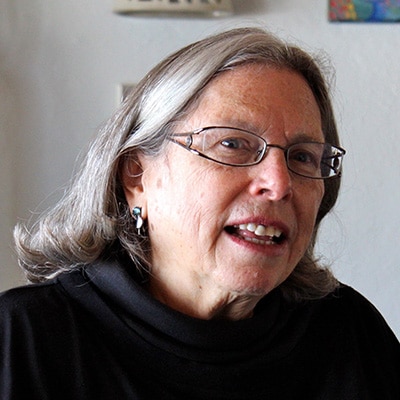 JoAnne grew up in Pittsburgh and was always interested in the arts, especially dance. When she was 15 she saw an ad in Dance Magazine for Perry-Mansfield, a performing arts camp in Steamboat Springs, Colorado where Helen Tamaris, a pioneer modern dancer and Broadway choreographer, would be teaching. She wanted to go and her parents said they would cover the tuition if she could pay for the transportation. So she started teaching dance classes in her basement to earn her travel. The summer at Perry-Mansfield was transforming; it reinforced the desire to be a dancer/choreographer.
Unlike some of her dance friends, she was more interested in creating her own dance company or dance studio than joining someone else. While living in Florida she built and ran her own dance studio. For over 34 years she ran a modern dance company, starting first in Florida and then expanding and moving to New York City.
The entrepreneurial spirit re-immerged when she and her husband relocated to Santa Fe, New Mexico in 2009. In 2010 JoAnne began Healing Voices- Personal Stories, a non-profit film company making films about domestic violence survivors. 
Healing Voices-Personal Stories vision is to educate victims, end the cycle of abuse and demonstrate the possibilities of life after abuse. The goal is to raise public awareness of women striving to overcome abuse through the creation and distribution of film and video to create awareness of domestic violence and to provide models for victims of domestic violence by sharing the stories of violence survivors who have successfully rebuilt their lives. 
JoAnne has participated in several workshops including Search Engine Optimization, Prospecting for Clients, Effective Networking, Social Media, Digital Media, Instagram, and Beginner and Advanced Etsy.
"WESST has been a wonderful help especially in bringing my skills up-to-date with social media, networking with other like-minded people, helping me feel part of the New Mexico community, and having great facilities where events can be held."  
JoAnne lives the dream of entrepreneurship. She creates work environments that she wants to be a part of whether it is running the dance company in the style that she likes or managing the film company and artwork. It is fun and rewarding to build productive boards, hire the right people to do the right tasks, and to be a motivating force to complete things.
"An important underlying driving force in my life has been to empower women and it is indeed special to be empowered by WESST, an organization where over 65% (80% in Santa Fe) of the people they serve are women."
JoAnne Tucker
Healing Voices