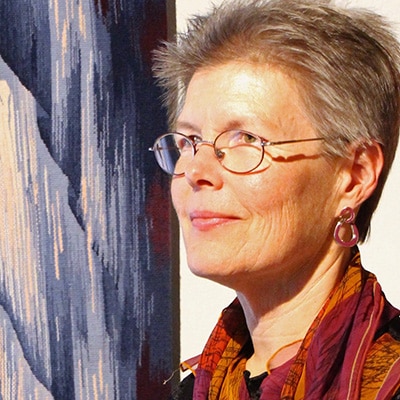 Elizabeth produces one-of-a-kind original handwoven tapestries for interiors, in addition to teaching classes to weavers on the art of handwoven tapestry and design.
Elizabeth is a second-generation tapestry artist of over fifty years. Elizabeth first wove tapestry based on the Mexican and Rio Grande techniques, and then expanded into those of the French tapestry tradition, studying with master weavers in Aubusson, France. With her weaving background and her degree in art, Elizabeth bridges both worlds. In her teaching she demonstrates how design principles and color theory relate to tapestry making. She draws from multiple tapestry traditions to provide her students with the technique vocabulary for finding and expressing their own unique voice.
About ten years ago, Elizabeth attended a series of workshops at WESST on "Maximizing Your Web Presence." The workshops gave her the confidence to build her own website, which proved to be a significant turning point for her business. With the Covid-19 pandemic lockdown, she was forced to cancel all of her in-person and out-of-state workshops for 2020 and 2021. It also required her to reinvent herself by shifting her teaching online, updating her technology skills so that she could produce instructional videos and screen share PowerPoint slides for weekly zoom classes. Her website became her hub for potential students to learn about her services and for her to build and maintain mailing lists for advance notification and registration details. She now has an international student base for online classes, with weavers attending from the United Kingdom, Europe, Australia, Canada, and United States.
"Whenever I have questions about running my business, I always know that I will be able to consult with WESST."
Elizabeth Buckley
Albuquerque, NM