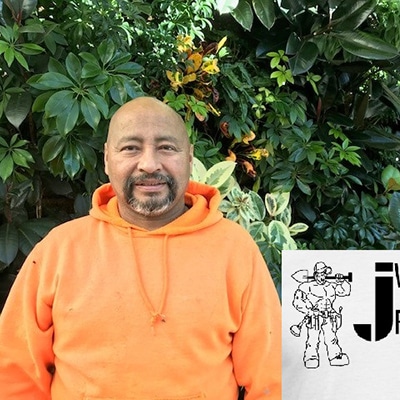 J. Velez Remodeling, LLC is a family-owned and operated business. They offer both commercial and residential services, including painting, cleaning, home additions, drywall installation and repairs, plus more.
Jose used to work for a company doing handyman work and Mayanin worked cleaning houses. After taking an entrepreneurship class, it sparked them to launch their remodeling business. They knew it was going to be hard, but they wanted to be their own bosses.
When they started their business, they faced many challenges. Because they were relying on a handshake negotiation as opposed to a legal contract, they found it challenging to get paid for their services. They were also unfortunately victims of a scam, which was a big hit to their cash flow.
As their business began to grow, they received another suspicious request from a real estate company to paint houses. Mayanin's sister-in-law, another WESST client, suggested they contact WESST for guidance. WESST confirmed the request was a scam. They are now meeting with WESST consultants who are diligently working with them monthly to understand their cash flow projections and their financials and improve their business systems.
Through the Advisor Network Program, WESST referred them to an attorney that helped them create a professional contract, which they now use with all their clients. Now, they say: "If someone doesn't sign the contract, we don't work with them. Now we can select who our ideal clients are, and they know our stipulations, no more handshake deals" They also learned how to use WaveApps to keep track of their financials and send invoices and quotes. They have also participated in the WESST IDA and Power Up programs, which they used to start working with a bookkeeper.
With the growth of their company, they are now hiring contractors, expanding their business by adding professional carpet cleaning services and purchasing additional equipment. They have enlisted the help of both of their adult sons. Their children are now part of the company. They have seen how hard their parents have worked to have a successful business and they want to be part of it.
They believe in giving back and have recently donated their painting services to WESST as an in-kind donation to us. They believe that if we all make an effort to improve the life of one person around us each day, we can make a positive contribution to the community.
Mayanin Cordoba and Jose Velez
""WESST has been an amazing partner on our entrepreneurial journey. We can't believe all the help they have provided us. We feel blessed to have all that support, and in Spanish, our own language! We are so thankful""
Jose Velez
Albuqueque, NM