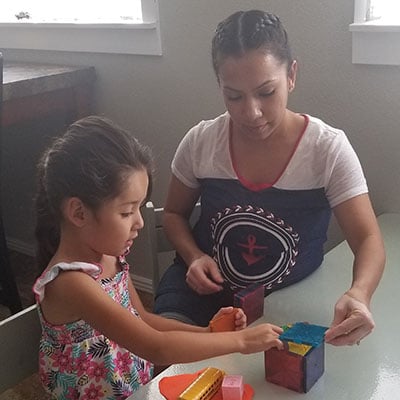 Little Sprouts Childcare and Learning Center
Little Sprouts Child Care and Learning Center is a family child care provider in Roswell, NM. The home-based daycare service provides care to children from infancy through 12 years old.
When Sonia couldn't find dependable childcare, she decided to be a stay-at-home mom to homeschool her own children. After eleven years of experience homeschooling her children she decided to investigate how to launch a daycare business.  Because she herself had been on federal assistance, she decided to offer the kind of care that she had sought so many years ago.  She researched how she could become a registered provider, completed all requirements and opened her home childcare business in September, 2016.  Over time, she gained the skills, expertise and, more importantly, the confidence to scale her business.  She applied to the state for all the necessary licenses, certificates, etc. Furthermore, she attended school pursuing classes in the Early Childhood field to become a certified childcare provider.
Things were going fine and according to plan and she was even able to start a savings account to help her achieve her dream of buying a building. Then, her husband lost his job in the oilfields. They had to live off of the savings they had set aside to purchase a building that would have positioned them for growth. However, what seemed like such a problem ended up being a solution to the growth of their business. Sonia's husband was able to take the necessary steps to become a certified in-home childcare provider and he was so great with the children.
Because of their financial setback, they had to delay buying a building and maintain their business in their home. They immediately started working with the City Council to certify their home to be used for their growing business. The Council, before approving their request, required them to make adjustments to their home such as adding additional front parking spaces. Even though money was tight, they met the requirements and continued working to obtain more cribs, tables, chairs, shelving etc.
Sonia was very smart about her start-up but didn't know very much about growing a business and exactly what it would take to buy a building. She sought advice from a local lender who referred her to WESST. There, she began learning what she needed to know about her business structure, recordkeeping and what it would take to obtain a loan. She began working with WESST on a detailed business plan to make sure she was doing all the right things to continue the success of her business.
As she was able to increase the number of children in her care, her business grew as did their savings. They currently provide childcare for 16 children from the ages of 14 months to 12 years of age in approximately 425 sf. In early July, Sonia and her husband will close on a 3,800 sf building they purchased that will allow their business to increase the number of children in their center to anywhere between 50 to 70 children. And, as the number of children increase, Sonia will add between 13 to 15 new certified childcare employees. In anticipation, she has one future employee who is currently seeking her certifications in order to be Sonia's first new hire in the expansion!
Sonia's passion has always been to provide quality, safe care for children along with opportunities for children to grow, be healthy and learn. Truly committed to her expertise in caring for children, she is giving parents the gift of her passion.
"WESST helped me to focus on my dream and how to make it a reality. The DreamBuilder Business Plan program was a wonderful introduction to entrepreneurship. It was the blueprint I needed to go forward in business. The lunch and learn workshops have been so beneficial. The legal workshop helped us to structure our business; the financial workshop and assistance received have also been very instrumental in our being able to meet our goals. Currently, the QuickBooks training has proven to be such a blessing as my business has outgrown the initial Excel spreadsheet I started with in my childcare business."
Little Sprouts Childcare and Learning Center
"I love knowing that if I get stuck on a business matter WESST can teach me and help me find all the resources I need!"
Sonia Ortega
Little Sprouts Childcare and Learning Center