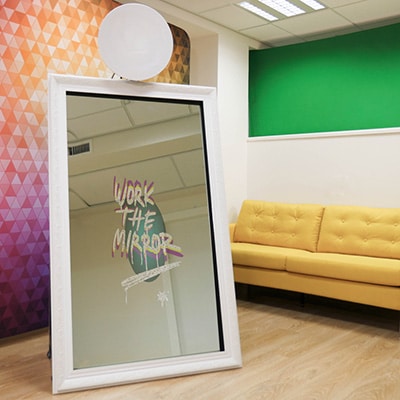 Magic Mirror Photo NM is an interactive, open-air photo booth company specializing in corporate events, weddings, birthdays, holiday parties, and school events. The company rents the booth on an hourly basis and provides props for themed events, customized templates and backdrops, online galleries, social media sharing, and onsite attendants if any additional assistance is needed.
Keiosha and her sister first learned about photo booth rentals on social media. They then saw the booths at a convention that they attended. There weren't any other photo booth rental companies in Rio Rancho, so they wanted to bring one to the area. The sisters started the company about a year ago and have been growing ever since.
One of the initial challenges the sisters faced was financing the purchase of the necessary equipment and paying for marketing and branding to get them started. Keiosha decided to self-finance the venture with some help from her sister by working multiple shifts at her job. Now that the business has launched, the biggest challenge Keiosha faces is time management. She is juggling many life commitments as she moves forward with her business including family, a job, and college courses. WESST in Rio Rancho has helped her consider ways to prioritize her time so that she can meet the many demands of a small business.
Additionally, WESST has helped Keiosha promote the business in Rio Rancho through their extensive network of business owners and contacts. Keiosha is an avid networker and eagerly takes opportunities to get her brand in front of others. Recently she was contracted to work at a holiday party for Absolute Realty due to the exposure she received through an article in the Rio Rancho Observer and through the Rio Rancho Chamber of Commerce membership.
Magic Mirror Photo NM is a unique concept for the Rio Rancho community that allows people to have a fun and lasting photo experience for a reasonable cost. WESST services help businesses like Keiosha's get their start and keep going.
"WESST has been extremely helpful in starting and growing my business over the last year. Whether it's marketing, time management, or the nuts and bolts of running my business, they are always there to help and answer any questions that I might have."
Keiosha Miller
Magic Mirror Photo NM