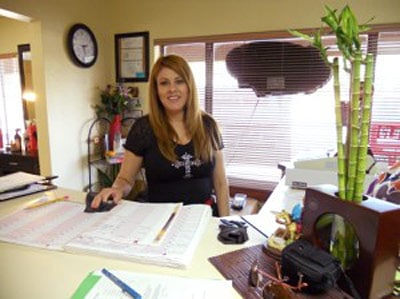 After marrying her husband, Rafael, Teresita (Tere) moved to the United States from Chihuahua, Mexico. During the next 23 years, she and Rafael raised their two children while he built his trucking business and she pursued a dream of becoming a cosmetologist.
In 2008, Tere purchased Christina's beauty salon in Las Cruces, where initially she was the only hair stylist. In the following year, she added two other stylists and later a nail technician. The building she was renting was about 900 square feet, which she quickly outgrew.  In an effort to buy a building, she contacted a local lender for the money and WESST for help in preparing her loan package.
The building she wanted to purchase was 1300 square feet and located a few blocks south of her rented space. The loan process was lengthy because of issues between the potential lender and the seller. After what seemed an impasse, Tere found funding through a private investor at a very good interest rate.  On February 5, 2013, she took possession of the building that would become her new salon.
After renovating the space, which included new flooring throughout, painting, modernizing the rooms, removing walls, and reconfiguring work areas, Tere was ready to reopen on April 3, 2013. Since she was creating a new salon with an entirely new ambiance, she decided it was time to change the name of her business to something that would appeal to both sexes. Maxim has a fresh, open feel, with enough room for four hair stylists, a nail technician, and a new esthetician.
Tere's philosophy is "never give up — no matter what!" She said that regardless of the stress she felt while first pursuing the building and the loss of money for inspections, assessments, and a list of other things, she knew the seller still wanted to sell to her personally. Instead of feeling deflated because the seller did not want to do business with her first lender, Tere decided the building was worth her efforts. Otherwise, she would still be renting in a much-too-small salon that belonged to somebody else.
Being a natural entrepreneur, Tere feels fortunate enough to pass some of her passion and interests on to her family. Jennifer, her 17-year-old daughter, will be helping in the business as a receptionist after school. Anyone looking at Tere's face can recognize the look of pride and accomplishment; and as she provides a tour of her new building, we are reminded that dreams only come true when they are pursued.