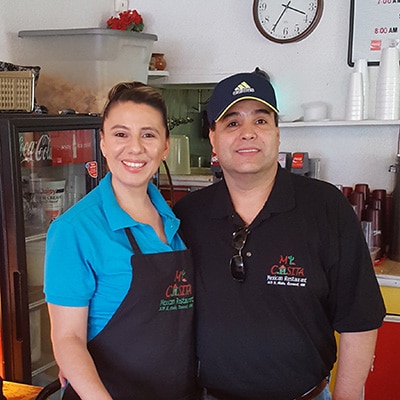 Noelia and Miguel Saens come from a long line of entrepreneurs. Several family members are experienced restaurateurs or have been involved in their family restaurant business. For eight years, Noelia and Miguel worked for her uncle's full-service restaurant. They learned all they could, and when they felt they were ready, and had her uncle's blessing, they started their own restaurant.
They began researching the requirements necessary to open a restaurant, such as acquiring a business license, obtaining their Tax ID and CRS numbers, and acquiring the proper business insurance, etc. While they were confident in their abilities to run the restaurant, they were concerned about the language barrier, speaking only Spanish. But as they had done many times in their life, they worked hard to learn English. 
Once they found a building to lease, the hard work of upgrading and remodeling began. They persevered and followed their plan by working together night and day until they were ready to open. Miguel did the cooking and Noelia served the food to patrons and managed the business end of the restaurant. Once they built up their business profits, they were able to hire a third person to help in the kitchen.
Mi Casita is a Mexican restaurant that serves delicious comfort food! They have established a customer base that has become more like family and close friends. Because they grew incrementally, they have been able to add employees as needed and have maintained their staff, comprised of six people, including themselves. The Saens are very grateful for their loyal staff who work hard to help them succeed and in turn, the Saens are always willing to help their employees in any way possible.
Noelia was introduced to WESST through a family member who had contacted WESST for start-up assistance. She called WESST to learn more about how to market her restaurant; through WESST's Dreambuilder program, she also completed a business plan. But Noelia didn't stop there, she went on to consult with WESST regarding her business accounting and budgeting. She and Miguel also completed a nine-week financial literacy course at WESST. They are like sponges, learning everything they can!
For the Saens, dreams do come true and they are living proof of it.
"I feel so secure knowing that if I have a business question or need, I can go to WESST to find the answer and be directed to the right person that can help me."
Noelia Saens
Mi Casita Restaurant, Roswell NM