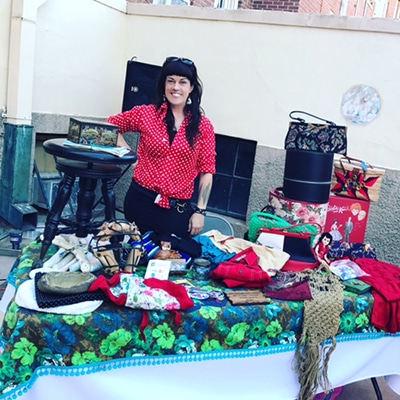 Misty Greer is an Artist and Etsy shop owner. She is a huntress of all things vintage and a maker of recycled art, repurposed clothing and quirky items.
Misty knew she could run her own business. She also knew she needed a better understanding of business logistics like writing a business plan, getting a tax ID and having resources to start her own business. The idea of having an online shop and having the freedom to hunt for items, run a shop and not be tied down to a location really appealed to Misty. One of the obstacles she encountered was trying to learn the intricacies of Etsy, which took many hours. Making small goals that were achievable for each day, keeping a forward momentum and doing it in small steps proved to be beneficial for Misty.
Misty has an extensive art background and a degree from Pratt Institute.  To help with her online shop she has continue to educate herself using online resources, including blogs, message boards and Etsy customer service guidelines. She designed her shop banner with Gimp and created her own business cards. To further expand her business, she needed an up-to-date camera-phone, a printer and supplies. She came to WESST and qualified for the IDA program, which is making it possible to purchase the needed equipment. Relearning how money works in the IDA program helps Misty think through the importance of each purchase helping her reach her goals in personal and business financial situations. She also took an advanced Etsy class that has helped build her SEO search words, titles, making back links, trouble shooting and strengthening her online shop. Since taking the Etsy class she has had multiple-item sales in one sale, which did not happen before.
Taking one day at a time, she is constantly learning.  The beauty of owning your own business is doing something that makes you happy and choosing the tasks for the day that have intention.  She is excited to wake up in the morning. 
"As a creative, because of information WESST has provided, it doesn't seem so overwhelming to do the business part of my business."
Misty Greer
Misty Danger Blue