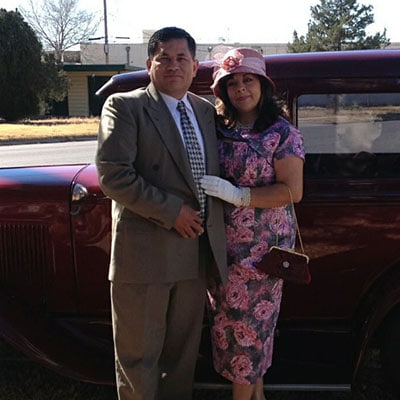 Nifty 50's Gift Shop & Cool Classics For You
Growing up in Roswell, Melissa and Orlando loved their community and always wanted to be a big part of it. Opening their own business had been a lifelong dream. When Orlando, who is an award winning classic car restorer, saw an old building become available, their wheels started turning!  With Orlando's classic car restoration experience and Melissa's love of the 50's style clothing and elegance of the era, they knew it was a perfect match for a new business.
The local market in Roswell is so well known for the 1947 UFO crash. To be able to compete with the UFO/alien market and stand out in a unique manner took some creativity. However, Melissa and Orlando, both being natives of Roswell, knew their community well and knew they had an edge on the market, especially when it came to the 50's style.
Realizing the competition for the tourists would be key, they avidly worked on researching all avenues of the internet. They wanted to insure they could sell to visiting tourists and also reach a worldwide market. They invested a large amount of their business funds in marketing and were able to expand their market share. In order to draw in the local customers, they attended local charity events and sponsored events themselves.
Melissa has had interaction with WESST for many years. She served as Director of the Hispano Chamber of Commerce, and held several economic development leadership roles in the community. She has been referring clients to WESST for many years.  She utilizes all WESST has to offer. She attends workshops, has received assistance with her Facebook page and Website.
Melissa and Orlando Cobos
Nifty 50's Gift Shop & Cool Classics For You
"Entrepreneurs who are looking to become business owners need to utilize the programs and education WESST has to offer."
Melissa and Orlando Cobos
Nifty 50's Gift Shop & Cool Classics For You