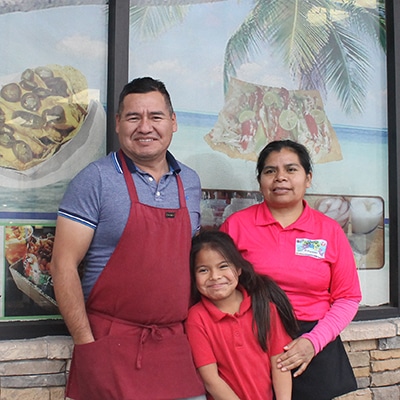 Paleteria Michoacana El Paraiso
Veronica Machorro and Simon Luna, husband and wife, own Paleteria Michoacana El Paraíso. They sell paletas (popsicles) in a wide range of delicious flavors, from light and fruity to creamy with a bit of spice. They also sell sandwiches, fruits and desserts.
Veronica and Simon used to work for Simon's brother who owns a dulceria. They noticed that many people came there to buy their ingredients to make paletas. Veronica and Simon have always wanted to own their own business, so they decided to open their own paleteria.
In the beginning, they were not aware of all the regulations and permits needed to own a food related business. Veronica and Simon thought they could just rent a place, open the doors and start their business. They signed a multi-year lease and then found out they couldn't open until they had all their permits in place. They also had to make building modifications to comply with all the city permits. "We did everything backwards" Veronica says.
Luckily the building owners let Veronica and Simon stay for a few months without paying rent until they completed all the permits and modifications on the space. They also had some cash savings before they started their business. If they hadn't had that savings to rely on, they might not have been able to open their store. When issues arose, they didn't panic. They assessed the situation and started working really hard, sometimes as much as 12 hours a day. They had passion and perseverance and were committed to their goal of having their own business. After the initial shock and stressful start-up times, they realized that they needed to learn more about running a successful business and started talking to other business owners who told them about organizations such as Encuentro and WESST. "I wish I had known earlier that these services were available for entrepreneurs" said Veronica. "It is a wonderful feeling knowing that not only do we have an organization that supports us in growing a successful business, but the training and consultations are in Spanish, our first language!"
WESST has been instrumental in helping Veronica and Simon grow their business. They came to WESST and began taking classes and attending one-on-one consultations. WESST staff guided Veronica and Simon on the steps to grow their business.
At WESST, Veronica and Simon participated in the Power Up Your Business program, sponsored by PNM. Through that program they created a new website, which helped generate additional income and reach new clients. Just one month after implementing Grubhub online food ordering, their sales increased by $1500. Thanks to their work with WESST, Veronica is no longer afraid of technology, but embraces it and understands that technology options are important aspects that factor into clients' decision on which restaurant to choose.
Paleteria Michoacana El Paraiso tries to make each customer experience unique and welcoming. Veronica and Simon want their customers to know how much they appreciate them. Many people in the community use Paleteria Michoacana El Paraiso for their gatherings and client meetings. Even the paleteria's own bookkeeper sometimes meets with her clients there. Veronica is very outgoing and talks to anyone that feels comfortable asking her questions about their business, and she is happy to refer them to WESST.
Owning their own business is a dream come true for Veronica and Simon. Their kids can be with them at their store, and they love that they don't have to put their kids in daycare. Veronica and Simon can pick pick their children up from school and bring them to the store where they do homework and spend time together. The kids help and see what it means to work hard. It truly is a family effort. The kids even have dreams of starting their own business some day!
"You have to do business the way your clients prefer to do business with you. We hope to be in business well into the future and with WESST we know we have a partner on our journey" says Veronica.
Veronica Machorro and Simon Luna
Paleteria Michoacana El Paraiso
"It's a wonderful feeling knowing that with WESST not only do we have an organization that supports us in growing a successful business, but it does it in Spanish, our first language!"
Veronica Machorro
Paleteria Michoacana El Paraiso