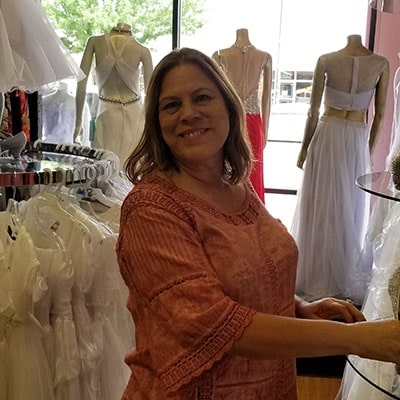 Paris Bridal sells wedding attire and accessories, plus fashion attire for events such as Quinceañeras, proms, and homecoming. They also offer design services and decorations for special events and provide special orders for any occasion.
Sanjuana Arreola was raised by her mother, a seamstress, in a small community in Mexico. Her mother's dedication, talent and artistry excited Sanjuana. She remembers rummaging through her mother's sewing boxes, fabrics and projects. All of it was interesting and delighted Sanjuana! Through these experiences came a love for the craft. Sanjuana may have started with sewing and fabrics, but her interests expanded to all types of fashion.
Sanjuana initially intended to be a home decor business consultant. While working as a consultant with Home Interiors & Gifts, she began providing services as a wedding designer. Her business grew very quickly and it soon became difficult to manage her fast growing business from her home. Happy clients were referring people to her and the new clients were requesting more than just design and decorations. Her clients needed wedding, bridesmaid, Quinceañera, prom and homecoming dresses.  With the expansion of her business, she needed to find a location in Roswell, preferably with high visibility and room to grow. Sanjuana was very happy to find a place to rent and even though the building was in shambles, she knew, with dedication, hard work, and family support, the building would become the perfect spot.
With lots of hard work the location started to blossom. But then, the owners decided to sell the building. The seller received many offers and Sanjuana became concerned that she wouldn't be able to compete and that her work would be for nothing. However, the landlord appreciated Sanjuana's loyalty and allowed her to purchase the 6,000 sf building. She opened Paris Bridal on Main Street and hosted a Roswell Chamber of Commerce celebration and ribbon cutting ceremony to help bring local awareness to the shop.
Paris Bridal continues to grow and therefore Sanjuana is looking to hire additional staff members to include seamstresses and sales clerks. Since Sanjuana provides more than just wedding decorations, she needs people who are willing to learn and grow with the business. She offers a great deal of professionalism, which starts by being punctual and providing excellent customer service. She expects things to be done right. She offers the ability to place special orders for all occasions. The City of Roswell has benefited greatly by the opening of Paris Bridal which allows the community to be able to shop locally.
As an entrepreneur, Sanjuana remembered how difficult it was for her to find space to rent. Because of this, she is now remodeling the building to allow rental spaces to other small businesses.
Sanjuana, her husband and son all came to WESST seeking business finance advice, took the QuickBooks Pro class and were given direction and guidance to help be successful. They feel their association with WESST has significantly impacted their business growth.
Sanjuana says, "I never imagined being in such a rewarding job. I get to do what I love while bringing happiness to others for their dream wedding, Quinceañera, prom, or other special occasion." 
"WESST has provided us with the direction to better our business and the friendship that has developed along the way is priceless!"
Sanjuana Arreola
Paris Bridal