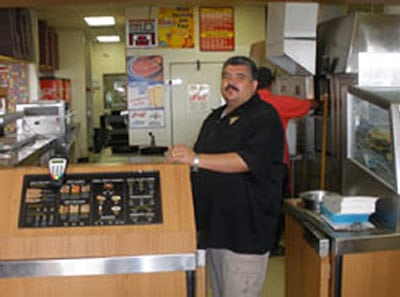 Peter Piper Pizza Franchise
Daniel Sedillo had been working at Peter Piper Pizza store in Roswell, NM since he was sixteen years old. He had managed the store for five years. After all the hard years of learning, Daniel was given an opportunity of a lifetime. The owner of the franchise wanted to sell the Roswell New Mexico location and extended the invitation to Daniel to buy and own the store outright.
Financing was the most difficult part of the acquisition. After numerous attempts with different banks and financial institutions, Mr. Sedillo and his father decided to pool their own investment. As a result, they were able to owner-finance the remaining balance for the restaurant.
Since that time Daniel has increased the store revenue steadily and consistently every year. The starting gross sales in 2007 were $800,000. In 2011, sales have risen to $900,000, an increase of $100,000.
Peter Piper started with 16 employees. Presently, there are 22 full- and part-time employees.
With help from Mr. Anthony Urquidez from WESST Roswell, Daniel was able to acquire the needed assistance for his business accounting needs. Using the WESST Roswell computer lab, Mr. Sedillo trained in the latest bookkeeping software applications, as well as taking advantage of the "Should You Incorporate" business seminar. Mr. Sedillo, with the help from Mr. Urquidez, has been able to keep an accurate accounting for his business.
"WESST has been a valuable service to us whenever we have a business or tax question, they always have an answer or explanation for us," says Sedillo.
WESST-Roswell plans to continue its relationship with Mr. Sedillo and assist in guiding him with his business now and for the future.
Peter Piper Pizza Franchise
"WESST has been a valuable service to us whenever we have a business or tax question, they always have an answer or explanation for us."
Daniel Sedillo
Peter Piper Pizza Franchisee