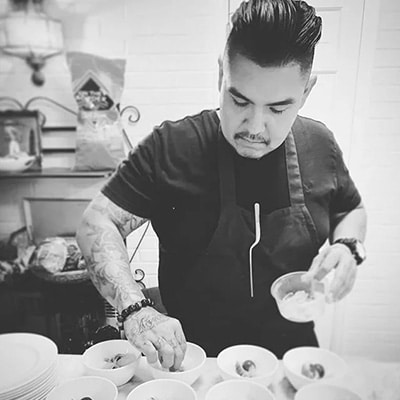 Pioche Food Group is a Native-owned and operated small foodservice business in Farmington, NM.  Justin Pioche is an Ashihii Dine' born for the Bit'ahnii people and he owns Pioche Food Group in partnership with his sister Tia Pioche. 
At an early age, his first experience of amazing food came from his grandmother Lorene. With a simple piece of hot frybread and pea soup made from fresh produce planted in her garden, he was hooked. During his senior year in high school, he placed 3rd at a National competition for cooking and went on to become a proud graduate of the Arizona Culinary Institute in Scottsdale, Arizona. Many mentors include Executive Chef Beau MacMillan of Sanctuary on Camelback in Paradise Valley, Chef Brandon Gauthier of Confluence in Cave Creek and Chef Ryan Pitt of Josephine in downtown Phoenix.  Justin feels he has learned from some of the best.
 "Ever since I can remember, I have had a burning desire to feed people with my food. To acknowledge culture and respect tradition while showcasing the visual beauty that can be exhibited from an edible element. Food is medicine. Food is nourishment. Food is a celebratory companion on this journey that we are all on together. It is the universal language between each and every one of us."
One of the biggest obstacles Pioche Food Group has faced is trying to start a small business when the entire world went into shut down mode with the COVID-19 pandemic.  Justin says, "nobody wanted food. Nobody wanted to go out anywhere. There was and still is a sense of uncertainty at times for the future of foodservice in the world."  Another challenge is starting with nothing. Justin and Tia know little about starting a business from the bottom up, which has been a challenge for them.
WESST is working with Justin and Tia to build a solid business foundation, helping them first develop their business plan, obtain their Federal Identification Number (FEIN) and NM CRS number, which they will need to file gross receipt taxes and yearly income taxes. As a busy entrepreneur, Justin has spent a lot of time developing his business model concept.  In the process, he has created his website and has improved his online digital presence using Facebook and Instagram.  And last but not least, Justin opened his business and merchant bank account for Pioche Food Groups, which will increase his ability to use online ordering. 
Justin has worked hard to pivot his business and develop innovative ideas to stay functional during the COVID-19 crisis.  Currently, Pioche Food Group is partnering with Juniper Coffee and Eatery to provide a supper club where clients can purchase an 8-course meal for up to 12 people and have a dine-in experience without having to prepare the meals themselves.  He has also started Friday Family Meal nights, where he develops grab and go gourmet dinners at an affordable price using fresh and healthy ingredients.  Justin also is honoring First Responders in San Juan County.  Members of the community can nominate a First Responder via the Pioche Food Group Facebook page, and Justin will select a winner and prepare a meal for them and their loved ones.
Justin is currently working to secure a storefront.  If successful, he will be in Farmington's historic Main Street District, an area that has been recognized as an Opportunity Zone.  His goal is to open a storefront, provide customized catering, and sell prepacked, fresh, homemade meals to go, allowing customers to merely pop into his store and grab freshly made meals and go on their way. 
"We are a unique catering service that chooses not to confine our beloved customers to ONE set menu." Justin is the kind of cook who loves to cook whatever his customers desire. "Make it as fancy as you like or as simple as you need. We are here to help you" says Justin.
Justin possesses a passion that continues to grow along with his respect for his people's history; he aims to learn as much as possible while maturing and developing his own style of cooking.  Navajo food is more than survival food to him. It is the essence of healing, beauty, and humility. Even though Pioche Food Group has a long journey ahead of them, Justin and Tia know that WESST will be there to guide them and be a resource for them as they overcome the obstacles of starting a small food business in difficult times. Whether it's looking at cash flow projections to keep their finances above water or helping them find a broad customer base while being true to their food concept and culinary vision. WESST is proud to be a resource helping to make the Farmington area a great place to start or grow a business.
"To know that if we have a question about anything and have someone to call or email at any time, is positive reinforcement to continue with our stay at WESST."
Justin Pioche
Pioche Food Group