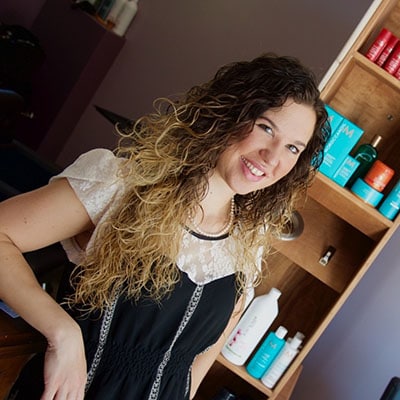 Sara's desire to become an entrepreneur was realized shortly after her return to New Mexico.  As an 11-year veteran stylist, most of her experience comes from her employment at two high end salons in New York City.  Sara spent 6 years at Ouidad, an upscale Manhattan salon specializing in curly hair.  She then moved on to Fleischman A Men's Salon in lower Manhattan and spent 3 years perfecting her skills by servicing the high end styling needs of her Wall Street clientele.  Upon her move back to her home state in 2014, Sara decided it was time to start her own business.  Sara has successfully created a NYC style salon and succeeds in matching each client's lifestyle to their hairstyle.  Every appointment is important to Sara and includes a thorough consultation to fully understand her client's needs.  She believes that a good hairstyle is built on the foundation of communication.  Sara is considered a triple threat in the industry – she is an expert in curly hair and men's scissor cuts as well as a master in color technique.   
WESST has been instrumental in assisting Sara from the beginning.  Sara met with Albuquerque consultant, Amy Lahti, to obtain feedback on starting a new salon.  She then completed a website loan inquiry.  After a brief conversation with loan officer, Antoinette Creel, Sara completed loan forms including her business plan outlining her vision for starting her business.  Sara continues to pull from the resources available to her at WESST.  She has reached out for assistance with marketing, QuickBooks and other areas in her business.  Per Sara, WESST provided the support she needed in the early stages of opening her first business and has been there to coach her every step of the way. 
 In addition to the passion of owning her own salon, Sara is equally passionate in her work and loves the unique experience that is created and shared with each client while doing their hair.  Being an entrepreneur allows her to be more fully invested in her community.  Sara thoroughly enjoys seeing the trust that is established between her and her clients. 
"WESST provided the support I needed in the vulnerable and rocky process of opening my first business."
Sara Bassett
Roots Salon