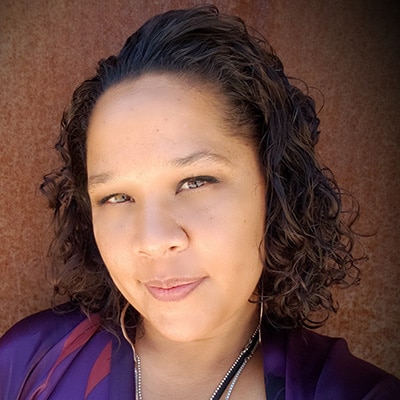 Ruby Love creates original and unique multimedia paintings as well as handmade jewelry. Originally from California, she now resides in Santa Fe, New Mexico where she paints professionally. Her artistic talent is finely honed and multigenerational. Acrylic paint is her preferred medium, yet she enjoys using a wide array of mediums and often incorporates collage elements into her work. She welcomes commissions and large works of art.
The first thing Ruby did in 2018 when she officially started Ruby Love Fine Art was she reached out to find the best resources she could. She strived to surround herself with like-minded individuals. One of the greatest resources she found to date is WESST. An organization designed to help women in business. Through various workshops, art shows, and zoom classes, she has strengthened and fortified her know-how. Additionally, she is always searching out any source of info that will allow her to grow. She has an undying commitment to self-development. WESST offered free digital storytelling classes that gave Ruby the knowledge and confidence to continue to dream about moving her business explorations into a better online presence. She gained valuable insight into the legalities of protecting her
intellectual property, why it was essential to be an LLC, and accounting practices – all fundamental to running a healthy business.
"WESST has offered invaluable workshops that have taken my small business to the next level. Through the support of WESST, it's amazing community and outstanding instructors, I have been able to refine and enhance my marketing strategies and approaches."
Ruby Love
Santa Fe, NM