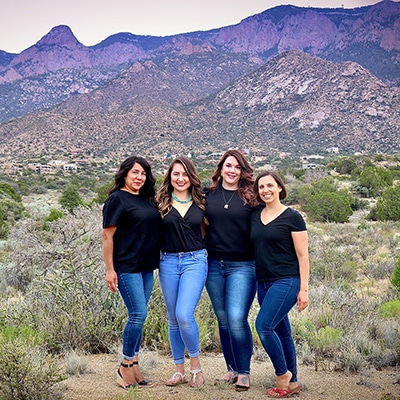 Sandia Sunrise Therapy, LLC
Sandia Sunrise Therapy LLC provides outpatient orthopedic and outpatient developmental pediatric services. Their physical therapist specializes in pediatric pelvic-floor treatment, aquatic therapy, provides services to the orthopedic population, is a CureDuchenne certified therapist, and is Board-Certified Clinical Specialist in Pediatric Physical Therapy. Their occupational therapists specialize in regulation and sensory processing, trauma-informed care, and aquatic therapy. In addition, one of the occupational therapists has an advanced certification in DIRFloortime (evidence-based treatment for Autism). Sandia Sunrise Therapy LLC is located in Albuquerque, New Mexico in a centrally located region accessible to families in the surrounding areas. They provide developmental rehabilitation services to a pediatric population ranging in ages from 0-21 years, who have but are not limited to the following: developmental delays, developmental disabilities, neuromuscular impairments, and musculoskeletal impairments. Additionally, their orthopedic rehabilitation services will serve adults ranging from 15 years of age and older who are recovering from injuries, accidents, diseases, and disabilities.
Established May 20, 2020, they started providing services in August 2020 and moved into their new location in October 2020.  Sandia Sunrise Therapy LLC was established by Teresa Ziomek, Melissa Esquibel, Oksana Tretiak, and Heather Armijo. The four of them previously worked together at another therapy clinic that closed due to the COVID-19 pandemic. As they started to navigate through the uncertainty of these challenging times, they saw a great need in the community for continuing these services. They contemplated the challenges ahead of them and cultivated a feeling of 'we are in this together' that reinforced their decision to own a therapy clinic and take the risk of creating their own business. They share a common vision and purpose and feel blessed to be able to create and develop Sandia Sunrise Therapy LLC.
Starting a business in the middle of a global pandemic proved challenging in many ways. In the beginning months, they provided Telehealth and socially distanced therapeutic services in open spaces while following the public health guidelines. Other challenges included obtaining insurance contracts (as COVID-19 greatly impacted the healthcare industry as a whole), building a referral base, finding office space at a reasonable price, establishing start-up capital, interviewing different companies to provide needed services, and all the challenges that come from starting your own business.  With WESST's help, they prevailed!  The challenges brought them closer together as a team, which helps strengthen their practice and the services they provide to the Albuquerque community.
WESST has been an invaluable resource by helping them develop their strategic plan as a newly-created small business. They have provided helpful resources, facilitated team building activities, helped identify a CPA, and kept them on track as they developed their business plan.
Their local community benefits from their ability to provide much-needed therapeutic services while creating equitable health outcomes for the families and patients they serve. Sandia Sunrise Therapy LLC will serve and support the community by building lasting relationships with their patients, collaborating with other health care professionals, and meeting their goals to provide the highest standard of care to their patients and their families. Sandia Sunrise Therapy LLC is the only therapy clinic in the State of New Mexico that offers Pediatric Pelvic Floor Therapy.  They also hope to provide student programs and help empower the next generation of therapists.
Building your dream takes time, but they are living it every single day. Each day brings new challenges, but together they are making their dream a reality. This challenging pandemic has brought them closer together and helped empower four strong, independent women to take a risk, create a therapy clinic, and become small business owners in Albuquerque, New Mexico. They hope to leave a lasting legacy and provide services for the community for many years to come.
Oksana Tretiak, Melissa Esquibel, Heather Armijo and Teresa Ziomek
Sandia Sunrise Therapy, LLC
"WESST has been a great resource for guidance and inspiration, during a time of uncertainty and emotional disruption. We have built a strong foundation for our business and feel confident in our continued growth thanks to WESST."
Oksana Tretiak, Melissa Esquibel, Heather Armijo and Teresa Ziomek
Albuquerque, NM