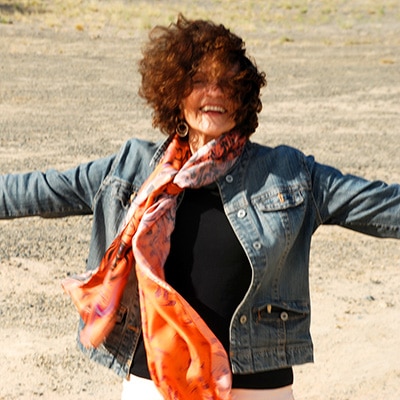 Meet Leah Siegel of Shadowlands Design. Leah makes limited-edition fine art wearables and functional items that transform the ordinary. Inspired by the dramatic landscapes of the Southwest, Shadowlands Design's products feature bold abstract digital designs and contemporary comfort. The scarves, home décor and lifestyle accessories are always collectible and make perfect gifts. The limited-edition line includes silk scarves/wall hangings; throw pillows and works on paper. Each piece is signed by the artist.
Majoring in Art History and Italian at Smith College, Leah received her M.A. in Photography and Studio Art from NYU and the International Center of Photography. She has taught at NYU, Long Island University and Santa Fe Community College. She has owned a video production company, which specialized in performance and experimental work and produced award-winning documentaries.
The lack of financial resources and experience with social media marketing have been the biggest obstacles Leah faced in starting Shadowlands Design. Despite her expertise with visual and digital media, as well as customers' enthusiasm for the products she develops, Leah feels hindered in the ever-changing social media arena. In 2012 Leah began working with WESST's Santa Fe regional office. She took advantage of workshops, such as, Business Development and Planning, Etsy Beginner and Advanced and also participated in workshops regarding Website development, Marketing Trends, Pinterest, Instagram and networking. She meets quarterly with WESST's regional director to brainstorm and identify opportunities to move her product and marketing initiatives forward.  
Leah has been involved with a variety of community artists' groups and volunteers annually at the International Folk Art Market. She has launched interactive workshops for artists/craftspeople designed to use digital media as creative tools for them to experiment and have fun with technology in the art-making process.
Leah doesn't claim to be living the "dream of entrepreneurship". For her, the "dream" has to do with pursuing a long-term, high-risk vision of making a difference in the world through her art using personal and professional determination and innovation. Since there are few guarantees of financial success in the creative arenas in which Leah works, the payoff is often elusive. While the pursuit isn't easy, she continues to evolve and challenge herself.
"Without the tools, strategies, expertise and ongoing support from the WESST seminars, workshops and people, I would not have moved forward with creating my new business."
Leah Siegel
Shadowlands Design