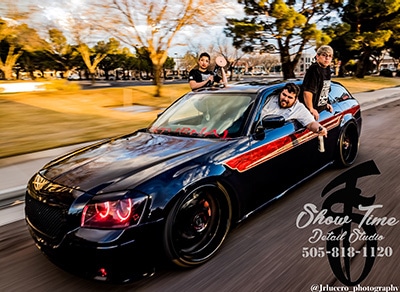 Showtime is an auto detailing shop that provides a complete service car wash to produce a show-quality cleanliness and polish. Detailing can be performed on a vehicle's exterior and/or interior. Showtime Auto Detail likes to think of themselves as the "Rebels of Detailing". Why? Because they aren't afraid of the work; they like challenges and do things outside of the norm. They take pride in their work and give EVERY project 110%.
Pablo and Cristol faced many challenges in starting her business. The majority of the problems began from not knowing how to market to the right clientele. People wanted really cheap prices and it was difficult to get started and not know how to market to the right clientele.  They also needed money to buy the right tools for the trade. They started with polishers that worked, but the name brand tools are scientifically proven to improve vehicles and save time.
Showtime received a small loan from WESST that helped them purchase equipment, revamp their logo and purchase shop shirts. They also participated in the WESST IDA Program where participants complete a ten-week money management course that focuses on budgeting, saving, and credit. With lots of hard work and help from WESST they are now working on their social media marketing. "Mark's persona is so motivating, he makes you want to go home and do the work on your business right away. We go in and we are so tired and we leave with so much energy."
It has been a lot of hard work, they have not been able to relax, it has been nonstop for the last two years. Showtime is currently ranked as one of the top five detailers in Albuquerque, so the hard work is paying off.
Pablo Bolivar and Cristol Alderete
"There is so much more behind starting a business, it is not just going in and doing what you love to do. When we jumped in we thought we are going to clean cars and it would be fun, but you work twice as hard being an entrepreneur. The support from WESST makes things easier."
Pablo Bolivar and Cristol Alderete
Showtime Auto Detail