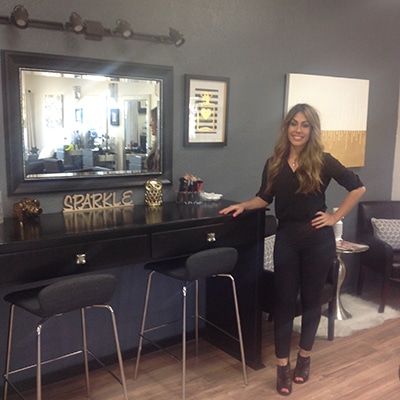 Brittney was experiencing great success as a stylist but knew she wanted to grow her business. She was generating a high volume of sales while only operating out of one chair. The opportunity to become an entrepreneur was presented and Brittney knew that was her chance to capitalize on fulfilling her dream of being a business owner.
Brittney was ready to move forward but knew she needed funding to get things started. Brittney had a strong foundation of operating her individual chair as a business. However, she was facing the obstacles of finding financing and increasing clientele. She had to budget for an entire business, not just a one-woman show. The unique services and quality of work that Brittney produced and expected created a smaller pool of stylists for her to choose from.
Brittney and Studio One Six received a start-up loan from WESST for modifications, equipment purchase and inventory. Since then, there have been site visits to her business and assistance with QuickBooks. Through her partnership with WESST, she learned the importance of cash flow, expensing, and marketing her brand. Brittney believes the training, funding and encouragement from WESST prepared her to launch her business. WESST will continue to work on goal setting on a quarterly and annual basis. This will ensure the growth and health of her business as it approaches the next phase of the business life cycle.
Brittney is living her dream. She is learning the ins and outs of running a business. She is aware that being a business owner entails long hours of dedication and it is a continual process that has no end. In less than a year Brittney is in such demand it was necessary to add a 5th chair. The added revenue stream of the 5th chair will require minor adjustments to the expected cash flow, but has Brittney excited and optimistic of what the future will hold.
"WESST gave me a chance when no one else would. With the help of WESST I was able to pursue my dream of having my own business."
Brittney Ingram
Studio One Six